Photo by Trusted Images via Pixabay
Attract the Right Job Or Clientele:
Will You Use Sales Questions to Increase Your Business?
NOTE: David Newman provides our guest blog, Can You Use 21 Sales Questions to Increase Your Business?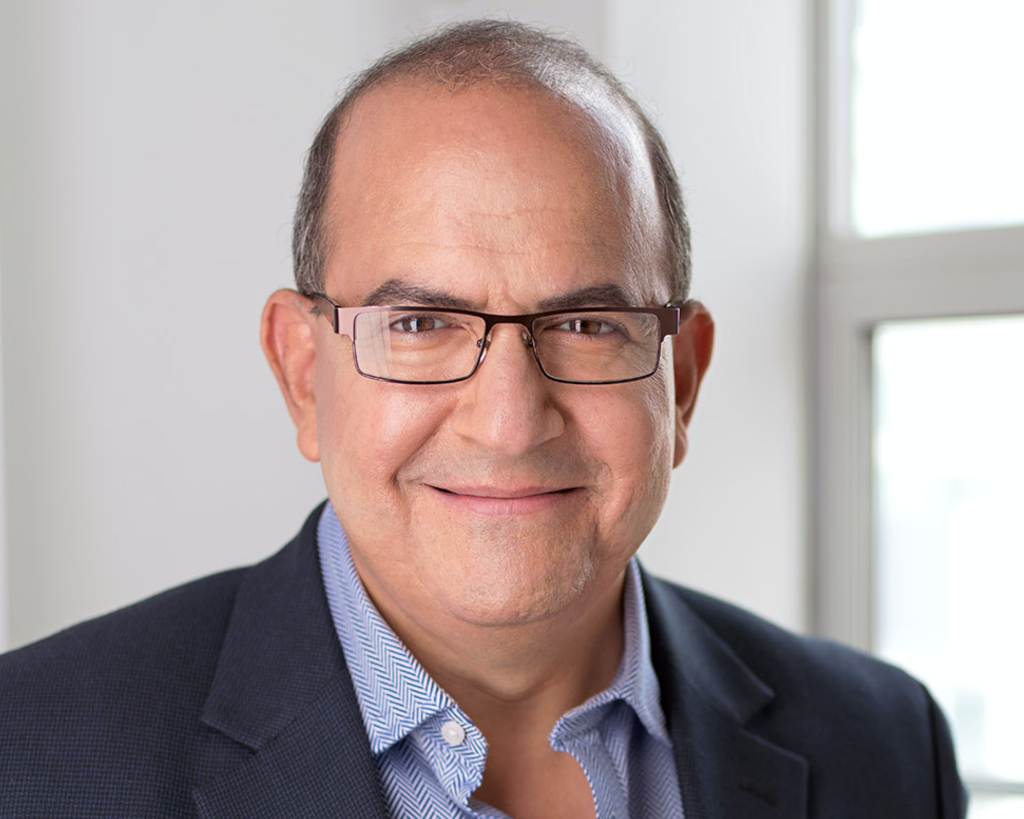 David Newman is a professional services sales expert and founder of Do It! Marketing is a marketing strategy firm dedicated to making thought-leading entrepreneurs more successful.
David's book, Do It! Selling provides many marketing, sales, and business-building insights, and you may find his book at https://doitmarketing.com/selling.
______________________________________________________________________________________________________________
Use Sales Questions to Increase Your Business
Securing the sale involves many steps ad strategies upfront for moving from the first contact to the signed contract. The better sales strategy, however, is to use sales questions to increase your business. If you have ever encountered a salesperson who relentlessly speaks, you will realize the importance of asking questions!
Sadly, most sales representatives decide to relentlessly chase their prospects to experience unanswered emails and phone messages. Soon, it becomes easy to lose confidence, let your resolve and motivation slip, and eventually lose control of the sales process. The episode is known as the dreaded "Disappearing Prospect Syndrome."
But several factors are within your control that can make your sales process faster and easier. Some can even get you unstuck, eliminate stalling, and move again for sales opportunities you had given up on.
The most crucial factor within your control is asking SMART questions early and often to avoid surprises and uncover hidden "gotchas" lurking below the surface. These are defined as process questions about your prospect's real-world buying process. They are not your typical "sales robot" questions that your competitors have heard a million times – awkward and inappropriate questions like "What keeps you up at night?" "What would it take to earn your business?" and others of this type.
Upfront Questions to Increase Your Business:
What's important to them?
Who are the players?
What's their buying culture?
What will raise red flags?
What ammunition will they need from you to make the whole internal political sales process go faster, smoother, and more manageable?
But to get to the heart of the one thing that matters most is to learn the unique decision-making process for each prospect; how do they BUY? For your handy guide containing upfront questions to increase your business, consider David Newman's newly launched book: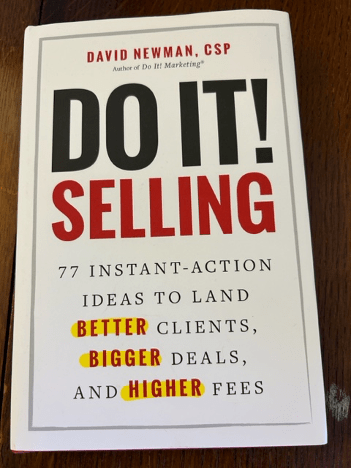 Consider Using Questions to Increase Your Business, such as these:
1. How will you buy things like this if you decide this is a good idea?
2. What is your implementation process?
3. What should I know about your timing? Signoffs?
4. When do you budget for things like this?
5. Do you think this deal is going to work?
6. What's missing, or what should we add?
7. Are you going to pitch it?
8. What else do you need to see from me?
9. Can I help you put together some numbers?
10. Do you have some numbers I could include?
11. Who else besides you will be making this decision?
12. Are "they" going to like it?
13. WHAT are they going to like?
14. WHAT are they going to push back on?
15. What else is going to be in our way?
16. How would YOU respond to that?
17. What answers do you need from me so you're prepared to answer their questions?
18. How much detail do YOU want?
19. How much detail will THEY want?
20. Are there any surprises we should prepare for?
21. If this were just you and me, how excited would you be to move ahead on a scale of 0-10?
The above 21 sales questions can help you close more business. Even better, done well, they will boost your sales confidence, restore your motivation to continue, and help you regain your sales mojo!
Note of Caution:
The answer to question 21 may create new questions. If they answer 9 or 10 – you're good; If they answer 7 or 8 – ask, "What would need to change to get us closer to 10?" If they answer 6 or fewer, you have a problem.
The better reply may be, 'I'm not certain this will work today. But is it possible it may work well in the future?' Pause to allow the person to provide an honest answer.
Bonus idea: Questions to Increase Your Business
Dan Pink, the author of To Sell is Human, offers the following pair of "irrational questions" to help you overcome a negative response at any point in your sales process and sell more effectively:
1. "How ready are you to [take the desired action], on a scale from 1 to 10, where One means not ready at all and Ten means ready now?"
2. Next, ask your prospect, "Why didn't you pick a lower (yes, lower) number?"
It will get them to reveal why buying your product or service might be a good idea after all. And you're back in the conversation.
Always follow up by asking for their suggestions for better dates and a good time for all. Be friendly and respectful as you remind them; they ask you to contact them on a specific day. You can ask if there will be a better time to reconnect or whether the prospect prefers never to hear from you again. The humor typically generates laughter and opens the door for a better time to reconnect.
Always show up in their world, at their request promptly, and make the following tips a part of your habitual practice:
Send more resources.
Give more value.
Ask more questions.
Offer more engagement.
Invite further dialogue.
Come back with more ideas to help them genuinely.
In Conclusion: Use Sales Questions to Increase Your Business
Following the suggestions above will work toward filling your pipeline of possibilities and being on target for quota. You will create a loyal clientele and remove the stress of finding new prospects with practice. Most of all, when you use sales questions to increase your business, the process becomes relaxed and enjoyable.
For More Insights: Visit Elinor's Amazon Author Page
'Communicate to Attract Interest'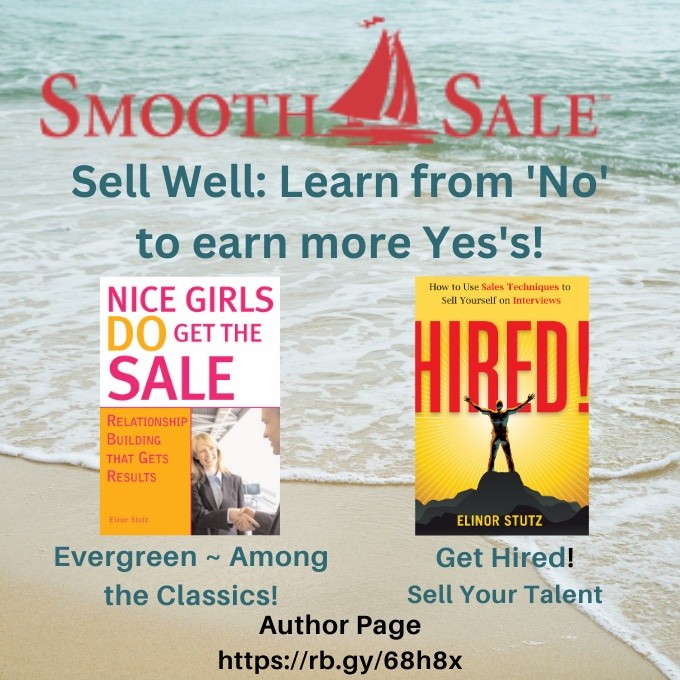 Authentic Relationships Are Essential
Be A Story-Teller
"Believe, Become, Empower"
Related Blog Stories:
Sales Tips: Use Sales Questions to Increase Your Business
We all hold the title of 'salesperson'; therefore, it's wise to consider sales questions to increase your business regardless of the type of company.
Avoid assumptions, as they never pan out well; always ask!
Begin each meeting upfront with the question, 'Why did you agree to take time to meet with me today?'
Dig deep with professional questioning to uncover unstated issues for a more robust solution.
Inquire about what your prospect has already tested to know how to steer the conversation.
As appropriate, share experiences to find commonalities and build the relationship.
If your offer is outside the budget, inquire when a better time to meet might be.
Set a return appointment before ending the meeting.
Upon beginning all following meetings, inquire about what has changed since you last met and continue to use sales questions to increase your business.
Celebrate Success!
Today's insights are provided to help you achieve the Smooth Sale!
RESOURCES FOR PERSONAL AND BUSINESS GROWTH:
Advisorpedia Publishes information to help advisors build their practice, and those interested in the markets choose investments and find inspiration.
BabyBoomer – A trusted media source that collects and curates all the news, resources, and shows of interest for the Baby Boomer generation.
BizCatalyst360 Presents a life, culture, and biz new media digest as a hub of creative expression and personal growth.
CatCat Build your future one skill at a time.
ContactOut is a web-based platform that enables users to search for contact information and uncover contact details, including email addresses, phone numbers, and other personal data.
Greg Jenkins Consulting LLC – Helping organizations realize the value of diversity to build inclusive, evolving, high-performing cultures.
Growth Hackers – Helping businesses globally grow with lead generation, growth marketing, conversion rate optimization, data analytics, user acquisition, retention, and sales.
Inclusion Allies Coalition "Everyone is welcome here." Learn more to train teams and join the advocacy program.
Internet Advisor Find the internet service right for you among 2083 internet providers across 36,380 cities; plus, Cellphonedeal compiles excellent deals on phones, plans, and prepaid to furnish you with the best options in your area.
Kred Connect with top-rated influencers to learn from and grow your networks.
LinktoEXPERT "It is not who you know – who knows you and what your expertise can do for them, plus understand the value of hiring you."
Lotus Solution LLC Helps organizations create diversity and inclusion to ensure fairness and work through customized consulting, training, and keynote speeches.
Onalytica Find relevant influencers for your brand.
SalesPop! Purveyors of Prosperity; How to Compete against Yourself to Excel in your career.
Simma Lieberman, "The Inclusionist," helps develop inclusive leaders from the inside out to champion diversity and build equitable, inclusive cultures at every level.
Vunela Provides a unique opportunity to view Videos and read articles by World Leaders.
WebTalk is the one-stop platform To build your marketplace and grow social connections.
Win Win Women is the world's only interactive network and an international community for women. Women WIN when they receive solutions + Experts WIN when they provide solutions = Win Win Women.