Photo by Geralt via Pixabay
Attract the Right Job Or Clientele:
Do You Communicate To Win?
It was hilarious to watch someone in action, at a game table with no previous sales experience, attempting to sell her perspective, prompting the question, 'do you communicate to win?' The question is whether her team was ready to call a win or wait for the next round.
My Story
Her partners were told that they are substantially ahead and that there is no reason to risk another round, given the numbers can quickly turn. Then my friend went into great detail comparing their accumulative score to ours. There was no doubt that the answer should be a 'Yes; let's end this round.'
My response was, 'you sound like a salesperson!'
Of course, I had to explain myself.
Meanwhile, my friend's second partner did not comprehend the situation at the table. Her reasoning was the team could get more points if they continued. Her answer was, 'no.'
Herein lies the sales dilemma!
At times, demeanor is everything, including words, tone of voice, and facial expressions. It is necessary to practice acceptance of everyone, including being well-aware of diversity and inclusion to hear out everyone's perspective fully. My friend's facial expression was quite telling, but that is not something we can allow for in any business environment. Use caution as anger never sees a satisfying solution. But it can damage long-term relationships or a company's bottom line.
As sales and businesspeople, we must recognize everyone has varying experiences and perspectives. We need to keep our demeanor in check. Upon understanding everyone's perspective upfront, it becomes easier to connect the path one another to move a sale forward. We work with the facts but also personal preferences and desires. To gain a more robust insight, we ask many questions to understand the scope of our prospect's wishes and hopes to achieve. The questions help us to communicate to win.
'Observances of facial expressions and body language reveal much.
Only after one long or multiple conversations can we contribute new ideas and strive to satisfy all parties to help ensure we finalize the sale. One last effort is to request and answer 'any additional questions the person may have.' Doing so assures our intended clients that we are there to serve them well. The reassurance contributes to trust and can lead to earning the business. When we strive to communicate to win, it usually serves us well.
Similarly, the game table commentary that caught my attention centers on striving to win. Upfront, the rule is to ask one's partner if they would like to go out and accept whatever the answer may be. My friend's partner could have put her cards on the table to take the commanding lead.
In a professional sales style, my friend laid out all the reasons orderly. The positioning was easy to follow and understand as it was delivered in order, point by point. However, the partner wanted to gain more points before ending the round. Her answer of 'no' did not make much sense. To the team's dismay, the win was dismal, leading to additional rounds and points favoring the opposing team. It was the partner's call, and so the game continued.
While this may be a simplistic example, it demonstrates that as sound as our communications and reasoning may be to earn a traditional sale, a large percentage go by the wayside. Typically, most believe that they communicate to win but lose the possibility they did not see coming.
The traditional statistic is somewhat comforting although troubling at the same time: The better salespeople earn the sale only 20% of the time! While the statistic can be highly stressful when one is on 100% commission and in need of making money to put food on the table, it has salespeople paying keen attention to all communications and observing all related interactions.
Communicate to Win Entails:
Attention to detail
2. Questioning and listening to understand fully
3. The desires of our prospects
Dedicating oneself to learning to communicate to win will put salespeople at the top of the charts.
Your Story: Communicate to Win
Now imagine yourself enjoying an appointment with a prospective client. Everything advances to your liking until the very end, when you are put on your heels to stop. Your prospect answers, 'No, I don't think this will work for us.'
Now imagine yourself enjoying an appointment with a prospective client. Everything advances to your liking until the very end, when you are put on your heels to stop. Your prospect answers, 'No, I don't think this will work for us.'
What do you do to respond and hopefully acquire the business?
Stories from years past reveal that salespeople got into a heated argument over the situation and seemingly wasted much time. The arguing did not pan out well. On the other hand, it is possible to save a sale in this scenario.
Do you ask the following questions?
Will you please give me the reasoning for your decision so that I understand the situation?
Is your reply for today with a possibility for tomorrow?
Is the answer of 'no' temporary due to budget constraints or for the long-term?
Without pressure, most prospects will appreciate the desire to learn long-term thought. Why? Most salespeople attempt to pressure prospective clients unnecessarily to say, 'yes.' They are behind on meeting the quota and only have themselves in mind. By being cordial and making appropriate inquiries about the long-term, you may often turn the situation around for the sale to be forthcoming.
In Conclusion: Communicate to Win
The entire sales cycle requires that we build trust in ourselves and our ability to improve the situation of our clientele. Success in the business world relies heavily on us as we strive to communicate to win!
For More Insights: Visit Elinor's Amazon Author Page
"Communicate to Attract Interest"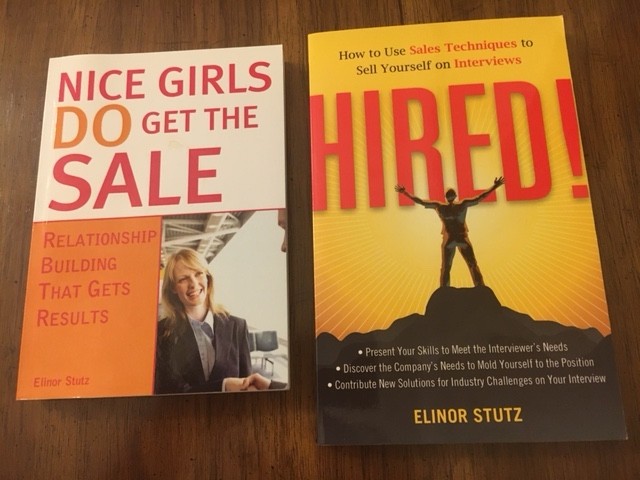 Be A Story-Teller
As the CEO of Smooth Sale, after her near-death experience, Stutz adapted the motto,
"Believe, Become, Empower"
" Nice Girls DO Get the Sale is an International Best-Selling and Evergreen Book – among the classics;
HIRED! Helped many to secure the job they desired.
Related Blog Stories:
Sales Tips: Communicate to Win
You can more easily influence a decision in your favor when you communicate to win.
Strive to obtain the other person's perspective first.
Omit judgment from all answers you receive.
Ask questions for further clarification and to realize if more questions are necessary.
Never allow an answer to alter your mood.
Throughout the process, retain humility and sincerity as you strive to do what's best for all parties.
Attempt to negotiate a better outcome by asking the prospect how they see the possibility of moving forward.
Negotiate the necessary steps and a timeline for moving forward together.
Ensure you meet all expectations before asking for the sale.
Celebrate Success!
Today's insights are provided to help you achieve the Smooth Sale!
RESOURCES FOR PERSONAL AND BUSINESS GROWTH:
Advisorpedia Publishes information to help advisors build their practice, and those interested in the markets choose investments and find inspiration.
BizCatalyst360 Presents a life, culture, and biz new media digest serving as a hub of creative expression and personal growth.
CatCat Build your future one skill at a time.
For Book Lovers Only For Book Lovers Only introduces you, the book lover, to new and exciting authors and works of fiction and non-fiction.
GetCiara Make remote your unfair advantage.
Greg Jenkins Consulting LLC – Helping organizations realize the value of diversity to build inclusive, evolving, high-performing cultures.
Growth Hackers – Helping businesses from all over the world grow with lead generation, growth marketing, conversion rate optimization, data analytics, user acquisition, retention, and sales.
Inclusion Allies Coalition "Everyone is welcome here." Learn more to train teams, and join the advocacy program.
Internet Advisor Find the internet service right for you among 2083 internet providers across 36,380 cities, plus Cellphonedeal compiles great deals on phones, plans, and prepaids to furnish you with the best options in your area.
Kred Connect with top-rated influencers to learn from and grow your networks.
LinktoEXPERT "It is not who you know – it is who knows you and what your expertise can do for them plus understands the value of hiring you."
Lotus Solution LLC Helps organizations create diversity and inclusion to ensure a fair and just work through customized consulting, training, and keynote speeches.
SalesPop! Purveyors of Prosperity; how to compete against yourself to excel in your career.
Simma Lieberman "The Inclusionist" helps develop inclusive leaders from the inside out to champion diversity and build equitable, inclusive cultures at every level.
Vunela Provides a unique opportunity to view Videos and read articles by World Leaders.
WebTalk is the one-stop platform To build your marketplace and grow social connections.
Women's Information Network (WIN) An education-and-event-based Global Community of Women Helping Women Worldwide Live Their Best Lives through Celebration, Self-Improvement, and Service.