Photo by Gabriel Gonzalez via Unsplash
Attract The Right Job Or Clientele:
Do You Handle Negativity Graciously?
Over time, the expectation is that we handle negativity graciously, but not everyone does. As a sales representative, I learned not to concern myself with a response of either yes or no. But an answer of 'no' is easier to deal with than nastiness.
In either case, it is our responsibility to deal with either the best we may. Interestingly, as we learn to handle negativity graciously, the nicer reply will throw the other person off their game. The look of shock on their face can bring a smile.
After the fact, it's wise to review any element of truth to what you hear so that improvement may occur. And then add it to your list of stories to share with others, but without using names!
Story-sharing is a fun way to handle negatively graciously!
My Story
I always advocate connecting and collaborating with like-minded people no matter where you meet. Doing so puts more enthusiasm into our endeavors. And when our clientele detect we are happy and enthused about what we do, they feel the inclination to do business with us.
For years, I have been contributing to the collaborative business advice newsletters compiled by Carol Roth. Her track record is inspiring! The following words are from her website, CarolRoth.com: Carol Roth is a content creator, "recovering" investment banker, author of The War on Small Business, entrepreneur, TV pundit, and host, and New York Times bestselling author of The Entrepreneur Equation.
You may read today's collection of outstanding business tips on the topic of 'Small Business Tips for Dealing with Customer Complaints' by clicking this link.
The insightful piece is lengthy, and experienced business people provide their insights. The order of the tips holds little importance. For example, the headline of Tip #248, advises, 'Don't Take Feedback Personally.' The one sentence is what most people have to learn to deal with appropriately.
My contribution is #47 with a headline that recommends 'Use the Friendly Negotiation.' As long as the objections arrive in a professional tone of voice, I am always happy to discuss them. Frequently, they will provide greater insight into what the prospect is thinking and inspire them to relax while arriving at an agreement. My friendly negotiation style is to ask questions for a deeper discussion. Most often, it works out well for providing the solution the client is seeking.
For More Insights: Visit Elinor's Amazon Author Page
Communicate to Attract Interest.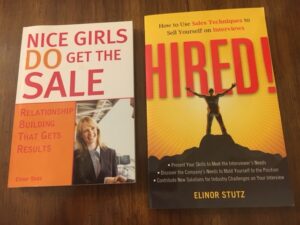 Be A Story-Teller
As the CEO of Smooth Sale, after her near-death experience, Stutz adapted the motto,
"Believe, Become, Empower."
"Nice Girls DO Get the Sale is an International Best-Selling and Evergreen Book – among the classics;
HIRED! Helped many to secure the job they desired.
Related Blog Stories:
Your Story: Do You Handle Negativity Graciously?
It's entirely possible with the new work arrangements, you do not have everything at your disposal, and more customer complaints take place than ever before. The first step is to admit whether or not you handle negativity graciously. Think back to the worst commentary you heard and how you responded. Is it possible you could have taken it in a calmer style?
Another way to handle negativity graciously is to take the high road when the worst occurs. Upon hearing nastiness, respond with, 'you may be right,' and then walk away with a smile. By smiling and then walking, you win! This type of response usually leaves the rude people in shock because their goal was to get you angry.
But don't confuse walking away from business with handling objections graciously. Only walk away when you realize the person is rude and not worthy of your time, and you cannot serve them according to their expectations. If the latter, you may first want to see if you can negotiate a satisfactory solution for all parties, but if not, it's best to be truthful and spend valuable time with clients you can help.
Sales Tips: Handle Negativity Graciously
Empathy wins more often.

Apologize for any misunderstanding or miss-delivery.

Even if the issue is not your fault, ask questions and listen carefully to the answers.

Inquire how the person sees you helping to resolve the issue.

Be honest with what you can and cannot do.

Should a resolution be simple, give the person a target date, and then fix it ASAP.

If a solution is timely, request a target date for completing the project; negotiate a reasonable timeline.

Apologize, offer a solution, and then walk away from anyone who speaks down to you.

Clients who appreciate your attention to a matter are likely to be loyal and refer their friends.

Celebrate Success!

Today's insights are provided to help you achieve the Smooth Sale!

RESOURCES FOR PERSONAL AND BUSINESS GROWTH:
Advisorpedia Publishes information to help advisors build their practice, and those having an interest in the markets choose investments and find inspiration.
BizCatalyst360 Presents a life, culture, and biz new media digest serving as a hub of creative expression and personal growth
CatCat Build your future one skill at a time.
For Book Lovers Only For Book Lovers Only introduces you, the book lover, to new and exciting authors and works of fiction and non-fiction.
GetCiara Make remote your unfair advantage.
Greg Jenkins Consulting LLC – Helping organizations realize the value of diversity to build inclusive, evolving high-performing cultures.
Inclusion Allies Coalition "Everyone is welcome here." Learn more to train teams, and join the advocacy program.
Internet Advisor Find the internet service right for you among 2083 internet providers across 36,380 cities, plus Cellphonedeal compiles great deals on phones, plans, and prepaids to furnish you with the best options in your area.
Kred Connect with top-rated influencers to learn from and grow your networks.
LinktoEXPERT "It is not who you know – it is who knows you and what your expertise can do for them plus understands the value of hiring you."
Lotus Solution LLC Helps organizations create diversity and inclusion to ensure a fair and just workplace, through customized consulting, training, and keynote speeches.
SalesPop! Purveyors of Prosperity; how to compete against yourself to excel in your career.
Vengreso Provides easy-to-follow on-demand sales training for LinkedIn.
Vunela Provides a unique opportunity to view Videos and read articles by World Leaders.
WebTalk is the one-stop platform Build your marketplace and growing social connections.
Women's Information Network (WIN) An education-and-event-based Global Community of Women Helping Women Worldwide Live Their Best Lives through Celebration, Self-Improvement, and Service.