Photo by Geralt via Pixabay
Attract the Right Job Or Clientele:
Do You Realize The Benefits Of Disliking Your Job?
As strange as the title sounds, 'Do you realize the benefits of disliking your job?' the experience can be our most significant motivating force. All approaches to business will either aid or subtract from the bottom line. As employees, we must become strict observers of rights, wrongs, and all that may occur. A job we may dislike is the perfect training ground for learning how to become the type of future leader we admire and can model ourselves! How, might you ask?
My Story
We cannot erase memories. The good and bad news is that while some may make our blood boil, the lessons will also be memorable and helpful if we are willing to uncover the reasoning behind the experiences. My energy increases whenever I recall the corporate treatment of being the sole female on an otherwise all-male sales team. Admittedly, 'my blood boils' as the story episodes, similar to a TV series, come to mind. But oh, did I learn So Much!
Note: If those aggravating experiences had never occurred, I would never have reached where I am today.
My Observations and Lessons Learned:
Little teamwork plus no equality

Management frequently spoke to the sales team but never once wanted to hear an idea from their sole female representative. A team will accomplish far more when they realize appreciation, inclusion, and acceptance of ideas for a comprehensive discussion.
Lesson: One avenue, one mindset, produces one route for business with minimal results.
The companies missed out on potential exponential growth by eliminating ideas from all team members.
Lack of inclusion

Whether in conversation, the pay scale, or attending events, my inclusion was non-existent. The experience was less than desirable.
Lesson: I realized the necessity for diversity, equity, and inclusion advocacy. Without hesitation, I accepted the invitation to be on the social media committee for Inclusion Coalition.
Mandatory selling instruction
Conflict arises when companies do not adequately train their managers. The downward cycle continues as management will demand improper communications with clientele. Accordingly, the results are less than desirable among those who follow the rules.
Most memorable is the ongoing instruction, 'Follow our way to sell or get fired.' I'm one who chose not to do so.
Lesson: Learn to ask questions diplomatically of management and imply an alternative route. Some will be open to a new idea, others will dare the person to try, while others provide an adamant 'no.' The results speak for themselves.
The Irony: Those who chose to follow the mandatory instruction sold next to nothing, with little income to their names. They had to find a new job because they followed poor advice. Although I was the top producer, I also quit yearly due to the horrific treatment. The same observances and experience occurred year after year
Cost of Doing Business As Usual
Pay discrepancies between men and women, lack of diversity among team members, and disrespect assist the costly 'revolving door syndrome.' The term refers to the cost of hiring, training, quitting, and the need to begin anew.
Corporate Results: Significant Bottom Line Losses.
Poor behaviors on all counts eventually lead to disastrous results. Ultimately, several former employers realized too late the need to shut down with significant loss and penalties.
'Rethink, Revise, and Reengineer Future business.
Concluding my story, if all the above were never to occur, I would not have material to share or the ability to help others advance their endeavors. Story-sharing, among many, empowers us and realize the significance of the lessons from poor experiences that propel us forward.
Your Story: Do You Realize The Benefits Of Disliking Your Job?
For your sake and your career, please remember the following:
'Where you are today is the beginning step for tomorrow; tread carefully to advance toward your ambitions.'
Questions of the day include:
What does sportsmanship mean to you?
Do we need to change the vocabulary and rhetoric to sports-for-all-ship?
However, the essential question are:
When you achieve the success you desire, how do you want to lead?
What will your significant teachings be?
How would you like others to remember you?
Whether you intend to remain an employee, move into management, or begin entrepreneurship, it is wise to review where you are today and where you are heading. Decide upon the changes you desire to move your career forward. Create a goal plan and then procedural steps for doing so. But all the while, do your research on developments and future trends and take classes to continue forward.
Test your alternate route, and be willing to continue to revise, test, and push forward. Once you find the success path, please share how you did it with others who follow your lead. In particular, take time out to focus on the most upsetting experiences to realize a way around them.
Steadily, you will realize the benefits of disliking your job!
In Conclusion:
My happy ending is coming out of my shell to turn the experiences upside down into learning lessons for others to succeed. Upon the advice of another, I transferred the worst stories into two books that ironically became best-sellers. In other words, 'my worst became my best!' My wish is for you to be able to state the same!
For More Insights: Visit Elinor's Amazon Author Page
"Communicate to Attract Interest"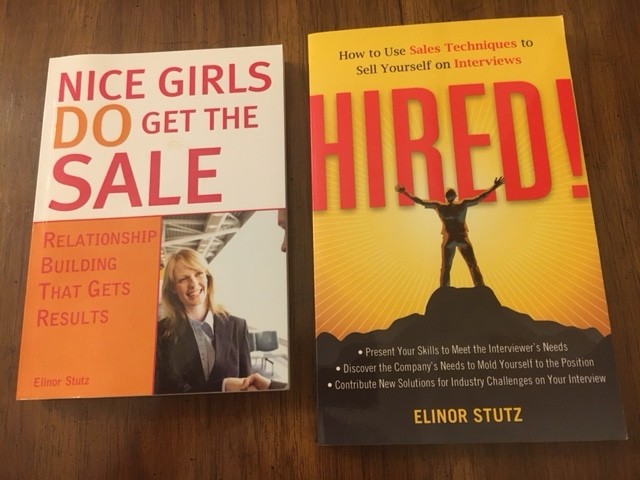 Authentic Relationships Are Essential
Be A Story-Teller
As the CEO of Smooth Sale, after her near-death experience, Stutz adapted the motto,
"Believe, Become, Empower"
" Nice Girls DO Get the Sale is an International Best-Selling and Evergreen Book – among the classics;
HIRED! Helped many to secure the job they desired.
Related Blog Stories:
Sales Tips: The Benefits Of Disliking Your Job?
Pretend you are a client to inquisitively ask yourself, what are the benefits of disliking your job?
Begin ruminating about your career history, the disappointments, and the better scenarios.
Contemplate how you prefer to perform in the future with your 'why' included.
Capture the highlights of your poorest moments and what stands out most.
Add to your least desirable moments how you want to see improvement in the future.
Begin listing out what you want to accomplish when circumstances do improve.
Realize and list the behind-the-scenes lessons to incorporate into your new adventure.
Create stories about poor experiences and lessons learned to share and help others advance.
Become the leader you desire.
Celebrate Success!
Today's insights are provided to help you achieve the Smooth Sale!
RESOURCES FOR PERSONAL AND BUSINESS GROWTH:
Advisorpedia Publishes information to help advisors build their practice, and those interested in the markets choose investments and find inspiration.
BizCatalyst360 Presents a life, culture, and biz new media digest serving as a hub of creative expression and personal growth.
CatCat Build your future one skill at a time.
For Book Lovers Only For Book Lovers Only introduces you, the book lover, to new and exciting authors and works of fiction and non-fiction.
GetCiara Make remote your unfair advantage.
Greg Jenkins Consulting LLC – Helping organizations realize the value of diversity to build inclusive, evolving, high-performing cultures.
Growth Hackers – Helping businesses from all over the world grow with lead generation, growth marketing, conversion rate optimization, data analytics, user acquisition, retention, and sales.
Inclusion Coalition "Everyone is welcome here." Learn more to train teams, and join the advocacy program.
Internet Advisor Find the internet service right for you among 2083 internet providers across 36,380 cities, plus Cellphonedeal compiles great deals on phones, plans, and prepaids to furnish you with the best options in your area.
Kred Connect with top-rated influencers to learn from and grow your networks.
LinktoEXPERT "It is not who you know – it is who knows you and what your expertise can do for them plus understands the value of hiring you."
Lotus Solution LLC Helps organizations create diversity and inclusion to ensure a fair and just work through customized consulting, training, and keynote speeches.
SalesPop! Purveyors of Prosperity; how to compete against yourself to excel in your career.
Simma Lieberman "The Inclusionist" helps develop inclusive leaders from the inside out to champion diversity and build equitable, inclusive cultures at every level.
Vunela Provides a unique opportunity to view Videos and read articles by World Leaders.
WebTalk is the one-stop platform To build your marketplace and grow social connections.
Women's Information Network (WIN) An education-and-event-based Global Community of Women Helping Women Worldwide Live Their Best Lives through Celebration, Self-Improvement, and Service.