Attract the Right Job Or Clientele:
Do You Want Ideas for Creating A Business That Spreads Inspiration?
It's a fundamental part of life to have the desire to inspire others. But creating a business that inspires others can feel like an almighty task. Research to put appropriate strategies in place will give us credibility moving forward. One of the better methods is to craft a company that encourages employees to give their best and encourages communities to do the same. Seeing the effort in action makes it possible to inspire audiences far and wide to do something similar.
Our collaborative Blog offers a two-step process to begin creating a business to spread inspiration. It then becomes possible to put a powerful branding program in place for many to recognize the effort. The triple effect is that you, your employees, and your audience benefit, and your business almost grows without feeling burdensome.
___________________________________________________________________
Creating A Business To Spread Inspiration
Start With What Inspires You
One of the biggest mistakes people make is thinking that if they help others, they are, in turn, helping themselves. We cannot reach out to the world and inspire others until we attend to what is within us. Finding the missing ingredient in your desired business is beneficial for realizing what already exists, the missing components you prefer, and creating your plan for what inspires you.
A company like Franchise Direct offers a variety of franchises. It is a worthwhile process because it doesn't just allow you to peek behind the curtain and find business ideas that are already doing well, but it can make for less work in the long run. The time savings are due to the template already present.
When you identify what appeals to you, take the time to reflect, remember, and revisit if these ideas align with your innate human needs, you will know if you have a winner.
Provide Value in Everything You Do
If you want to create a business that inspires, it can be in a manageable industry, such as the charity sector. Otherwise, the nightmare begins feeling like we are looking to do something that benefits the entire planet. Assisting a minority group can create a charitable business. But what keeps it inspiring from within concerns the inhabitants that run the day-to-day operation.
For many people, whether it's a charity or an environmental initiative, you have many fundamental components for consideration. Although there is much work behind the scenes, the value of the work matters most.
Value inspires people to involve themselves. Therefore, the focus is always to be on giving value in all sectors of the business.
Ensuring you do what you can to help people on a basic human level is the differentiator from the crowd. The idea is to make people feel like they are contributing to a more significant cause. Unfortunately, many leaders of charitable organizations become almost drunk on power because they think they are the force for the good that drives the charity. However, the people who make the more significant difference will keep the organization going by focusing on the greater good. The value is in the work they perform for an inspiring outcome.
Inspiration comes in many different forms, despite the industry in which you operate. The most challenging component of starting any business is to inspire others. But whether you are looking to stimulate growth in terms of getting more customers or trying to ignite a spark within yourself, creating a business that inspires is not just about one single component, specifically you. You will need to create something that stimulates you to maintain motivation and inspire others for the greater good.
In Conclusion: Creating A Business To Spread Inspiration
The original sales motto was to 'work for a win-win.' However, a more modern approach is to be inclusive globally and work for 'A win for all.!' Updating the thought will inspire an international audience with similar desires and is what will drive success.
For More Insights: Visit Elinor's Amazon Author Page
"Communicate to Attract Interest"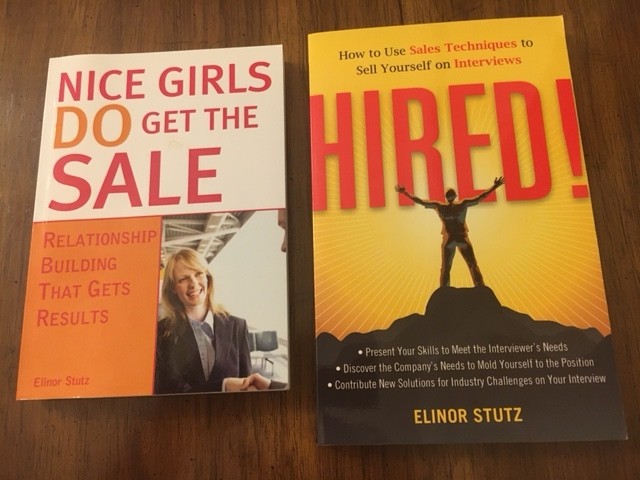 Authentic Relationships Are Essential
Be A Story-Teller
As the CEO of Smooth Sale, after her near-death experience, Stutz created the motto,
"Believe, Become, Empower"
" Nice Girls DO Get the Sale is an International Best-Selling and Evergreen Book – among the classics;
HIRED! Helped many to secure the job they desired.
Related Blog Stories:
Sales Tips: Creating A Business To Spread Inspiration
Consideration of creating a business to spread inspiration includes a community focus.
The first order of business is to review the life skills which matter most to you and then convert the thought into a program for teaching others.
Initially, test the waters for a warm reception and where the program may need revision.
Continue to ask for feedback for improvement and commit to embracing new ideas.
Observe reactions from others both in-person and online to know which topics prove popular.
Expand upon the popular subject matter to further spread inspiration.
Review whether your advice would have been valuable at the beginning of your career.
Upon seeing which areas of service prove popular, consider creating new products and services for your audience.
Constantly monitor what works well to expand the business to spread inspiration further.
Celebrate Success!
Today's insights are provided to help you achieve the Smooth Sale!
RESOURCES FOR PERSONAL AND BUSINESS GROWTH:
Advisorpedia Publishes information to help advisors build their practice, and those interested in the markets choose investments and find inspiration.
BizCatalyst360 Presents a life, culture, and biz new media digest serving as a hub of creative expression and personal growth.
CatCat Build your future one skill at a time.
For Book Lovers Only For Book Lovers Only introduces you, the book lover, to new and exciting authors and works of fiction and non-fiction.
Greg Jenkins Consulting LLC – Helping organizations realize the value of diversity to build inclusive, evolving, high-performing cultures.
Growth Hackers – Helping businesses globally grow with lead generation, growth marketing, conversion rate optimization, data analytics, user acquisition, retention, and sales.
Inclusion Allies Coalition "Everyone is welcome here." Learn more to train teams, and join the advocacy program.
Internet Advisor Find the internet service right for you among 2083 internet providers across 36,380 cities, plus Cellphonedeal compiles great deals on phones, plans, and prepaids to furnish you with the best options in your area.
Kred Connect with top-rated influencers to learn from and grow your networks.
LinktoEXPERT "It is not who you know – it is who knows you and what your expertise can do for them, plus understands the value of hiring you."
Lotus Solution LLC Helps organizations create diversity and inclusion to ensure a fair and just workplace through customized consulting, training, and keynote speeches.
SalesPop! Purveyors of Prosperity; how to compete against yourself to excel in your career.
Simma Lieberman "The Inclusionist" helps develop inclusive leaders from the inside out to champion diversity and build equitable, inclusive cultures at every level.
Vunela Provides a unique opportunity to view Videos and read articles by World Leaders.
WebTalk is the one-stop platform. Build your marketplace and grow social connections.
Women's Information Network (WIN) An education-and-event-based Global Community of Women Helping Women Worldwide Live Their Best Lives through Celebration, Self-Improvement, and Service.