Photo by Geralt via Pixabay
Attract the Right Job Or Clientele:
Do Your Communications Encourage Your Audience to Act?
The sales philosophy is to make the selling process credible and communications simple, all to increase the desire to begin a new relationship and encourage a 'Yes!'. But as Yogi Berra once said, 'It isn't over until it's over!' The answer to yes is only the beginning. What matters equally is the follow-through on every detail and all promises; otherwise, there will be a leakage in interest and clientele.
Perception is everything; the details must be communicated precisely and on time. Therefore, do your communications encourage your audience to act as you desire?
My Story
Two incidents occurring on the same day had me wondering how the people in charge may expect to grow their businesses and communities locally and globally. Not wanting to fix issues will prevent people from future participation vs. encouraging their interest, attendance, and subscribing to the forums.
Event #1
Most events begin with a Zoom meeting to introduce those presenting online and possibly in person. Conferences generally start with an introduction of speakers who will be presenting and the programs to be available. To encourage a more significant in-person attendance, an online presentation offers the highlights of what to expect on the day of the event and a few learning tidbits to demonstrate the power of the event. Typically, those in charge will send out a date to mark on each attendee's calendar with the Zoom link, and sometimes a passcode too.
The Problem:
Upon marketing the date on the online calendar, a link did not accompany it. A few days before, a reminder for the meeting was sent, but again, without the Zoom link. You can imagine that people panicked about joining the discussion on the day of the online event, as the Zoom link was never sent. It's entirely possible that a fraction of the intended invitees were in attendance.
I suggested training for the people coordinating future events on Zoom to include the link to download on the calendar. Next, follow-up reminders are vital on the day of the meeting for more people to join the event, albeit a webinar, or panel discussion, especially with the link, to ensure more people can join in.
The Result:
Ignoring and refusing to fix a situation will benefit no one. The organization is to accept future guidance in communications should it desire to increase membership and growth in all areas.
Event #2
The Problem:
The day before an event, I realized a conflict in the start time; a 45-minute disparity was in question. Immediately, I called the coordinator to find out if she was aware of the issue. Her response in a tone of annoyance was, 'No one reads my email; otherwise, they would know the correct time.' It was a hint that I did not read the email. Admittedly, I didn't see it, so there is truth in her statement. However, I habitually check out the facts before discussing the matter further.
Upon searching through my email, I wanted to find something to appear from the organizer. A friend confirmed she received it, but I'm not on the email distribution. Worse, the earlier time for the event is in the community newsletter.
Followup and Follow-through
Realizing where the disinformation came from, I called the organizer back to let her know. I suggested sending a new email admitting to a miscommunication. Otherwise, people who show up earlier might leave in frustration realizing the facts need to be corrected. To my disbelief, the person stated, 'Sending another email is too much work!'
Sales Takeaways:
1. Take responsibility for erroneous actions.
2. Apologize and promise to make things right.
3. Follow up to ensure everyone and everything is in good standing.
Your Story: Communications Encourage Your Audience to Act
Improvement requires that we learn from every situation and experience. Are you taking the necessary steps to fix what isn't right and improve current strategies continuously? Always keep in mind that communications encourage your audience to act accordingly.
For larger companies, management will do well to demonstrate honesty and integrity. But then celebrate the staff that models the same. Use these employees as models for others to learn and inspire them to do better. Have team members share what they believe is the uniform motivator for their clientele to conduct business with them. Upon establishing a collaborative effort, sales will likely increase along with morale and better teamwork that becomes routine.
No matter the company's size, it is essential to remain current on societal norms for business and integrate new technology as it becomes popular. Accordingly, you will earn admiration and be more likely to encourage further interaction. All styles of communication encourage your audience to act on a positive note!
In Conclusion: Communications Encourage Your Audience to Act
Audience and clientele loyalty will only expand when our actions are consistent and credible, and we demonstrate honesty plus the desire to fix what isn't right. Taking responsibility is the first step toward leadership. Your communications will encourage your audience to act as you desire; the decision is yours.
For More Insights: Visit Elinor's Amazon Author Page
'Communicate to Attract Interest'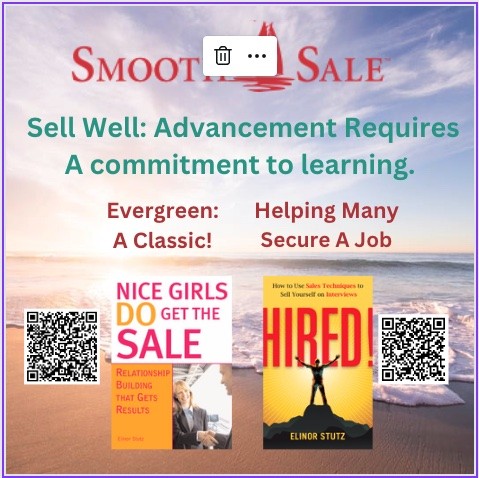 Authentic Relationships Are Essential
Be A Story-Teller
"Believe, Become, Empower"
Related Blog Stories:
Sales Tips: Communications Encourage Your Audience to Act
Ensure all communications encourage your audience to act as you desire.
Simplify all processes to encourage others to work with you.
Upon arranging appointments, include necessary links and employ the Calendly service.
Excuses yield poor results.
Lacking knowledge of a specific strategy requires asking for assistance or help.
Accept responsibility for poor outcomes to find the proper fix quickly.
Ensure the leadership team is on the same page when communicating the facts.
Should anything be improperly stated, take immediate action to fix it.
Always follow up whenever a question arises to ensure all is good.
Celebrate Success!
Today's insights are provided to help you achieve the Smooth Sale!
RESOURCES FOR PERSONAL AND BUSINESS GROWTH:
Advisorpedia Publishes information to help advisors build their practice, and those interested in the markets choose investments and find inspiration.
BabyBoomer – A trusted media source that collects and curates all the news, resources, and shows of interest for the Baby Boomer generation.
BizCatalyst360 Presents a life, culture, and biz new media digest as a hub of creative expression and personal growth.
CatCat Build your future one skill at a time.
ContactOut is a web-based platform that enables users to search for contact information and uncover contact details, including email addresses, phone numbers, and other personal data.
Greg Jenkins Consulting LLC – Helping organizations realize the value of diversity to build inclusive, evolving, high-performing cultures.
Growth Hackers – Helping businesses globally grow with lead generation, growth marketing, conversion rate optimization, data analytics, user acquisition, retention, and sales.
Inclusion Allies Coalition "Everyone is welcome here." Learn more to train teams and join the advocacy program.
Internet Advisor Find the internet service right for you among 2083 internet providers across 36,380 cities; plus, Cellphonedeal compiles excellent deals on phones, plans, and prepaid to furnish you with the best options in your area.
Kred Connect with top-rated influencers to learn from and grow your networks.
LinktoEXPERT "It is not who you know – who knows you and what your expertise can do for them, plus understand the value of hiring you."
Lotus Solution LLC Helps organizations create diversity and inclusion to ensure fairness and work through customized consulting, training, and keynote speeches.
Onalytica Find relevant influencers for your brand.
SalesPop! Purveyors of Prosperity; how to Compete against Yourself to Excel in your career.
Simma Lieberman, "The Inclusionist," helps develop inclusive leaders from the inside out to champion diversity and build equitable, inclusive cultures at every level.
Vunela Provides a unique opportunity to view Videos and read articles by World Leaders.
WebTalk is the one-stop platform To build your marketplace and grow social connections.
Win Win Women is the world's only interactive network and an international community for women. Women WIN when they receive solutions + Experts WIN when they provide solutions = Win Win Women.