Attract the Right Job or Clientele:
Getting More Leads Through Content Marketing
The popularity of and advance to getting more leads through content marketing signaled the end of the era of banner ads. The emergence of social media gave marketers a seemingly endless supply of intimate, personal channels to send targeted content to specific groups. In the modern environment, the line between search and social has been blurred, and content marketers have to be savvier and more precise with the content they create and the strategies the develop to distribute it.


Content marketing drives traffic and creates product buzz.
Analyze Your Audience
As discussed in the article "Got Leads? How to Make Content Marketing Work for Your Business," develop a strategy based on your audience. Before developing and disseminating content, analyze the demographics, interests and shopping habits of those who will read it. Forbes gives an excellent primer for how to use Google Analytics to gain insight into the behaviors and needs of the people who are likely to consume your content.
Use Visual Imagery
Articles can be compelling and useful. They can, and sometimes do, go viral. Visual elements like infographics and slideshows, however, are much more useful. Graphic elements draw more readers, hold people on the page longer, receive significantly more social sharing, engagement and amplification than text-based content. Articles can serve as excellent companion pieces to infographics or other visual elements, but unless they have to stand alone, complement articles with images.
It does not require a design team or expensive freelance work to achieve stunning visual content. Several companies offer inexpensive – or even free – infographic templates that follow intuitive, drop-and-drag formats. Slideshows are another way for novices to convey information through a visually appealing medium. The single biggest and most amplified slideshow host is Slideshare.
Bit.ly: Follow and Track Your Content
Bit.ly gained prominence by converting long, unmanageable URLs into short, neat URLs. This service was critical for the rise of the abbreviated social micro-blogging format that began with Twitter. Bit.ly, however, doesn't only shorten URLs for convenient content distribution. It can also help content marketers track who views that content, and on which platforms. Content data from Bit.ly can serve as the backbone for comprehensive content marketing reports, and the service also offers deep linking and analytics tools.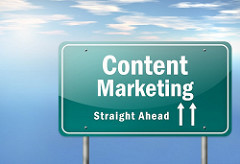 Position yourself as an industry authority with content marketing.
Bit.ly is just one of many powerful tools you can use to track and analyze your content, to create better material and distribute it more efficiently. To distribute it effectively, you have to know your audience. Use Google Analytics to hone in on who you're marketing to before you create content – and when you do, make sure your content is as visually appealing as it is informative.
Photo Credits: Flickr users Shirley White and Avnee Cooper
Andrew Lisa is a freelance business writer who covers online advertising and marketing.
Related Blog Stories:
Taking Lisa's insights under serious consideration will lead you to the Smooth Sale!
For More Insights: Visit Elinor's Amazon Author Page
"Communicate to Attract Interest"
As the CEO of Smooth Sale, after her near-death experience, Stutz adapted the motto, "Believe, Become, Empower."Nice Girls DO Get the Sale is an International Best-Selling and is Evergreen – among the classics; HIRED! Helped many to secure the job they desired.

Today's insights are provided to help you achieve the Smooth Sale!
RESOURCES FOR PERSONAL AND BUSINESS GROWTH:
Advisorpedia Publishes information to help advisors build their practice, and those having interest in the markets choose investments, and find inspiration.
BizCatalyst360 Presents a life, culture, and biz new media digest serving as a hub of creative expression and personal growth
CatCat Build your future one skill at a time.
For Book Lovers Only For Book Lovers Only introduces you, the book lover, to new and exciting authors and works of fiction and non-fiction.
GetCiara Make remote your unfair advantage.
Greg Jenkins Consulting LLC – Helping organizations realize the value of diversity to build inclusive, evolving high-performing cultures.
Growth Hackers – Helping businesses from all over the world grow with lead generation, growth marketing, conversion rate optimization, data analytics, user acquisition, retention and sales.
Inclusion Allies Coalition "Everyone is welcome here." Learn more to train teams, and join the advocacy program.
Internet Advisor Find the internet service right for you among 2083 internet providers across 36,380 cities, plus Cellphonedeal compiles great deals on phones, plans, and prepaids to furnish you with the best options in your area.
Kred Connect with top rated influencers to learn from and grow your networks.
LinktoEXPERT "It is not who you know – it is who knows you and what your expertise can do for them plus understands the value of hiring you."
Lotus Solution LLC Helps organizations create diversity and inclusion to ensure a fair and just workplace, through customized consulting, training, and keynote speeches.
SalesPop! Purveyors of Prosperity; how to compete against yourself to excel in your career.
Vengreso Provides easy-to-follow on-demand sales training for LinkedIn.
Vunela Provides a unique opportunity to view Videos and read articles by World Leaders.
WebTalk is the one-stop platform Build your marketplace and grow social connections.
Women's Information Network (WIN) An education-and-event-based Global Community of Women Helping Women Worldwide Live Their Best Lives through Celebration, Self-Improvement, and Service.