Attract the Right Job or Clientele:
Year-end brings out offers that appear to be out of desperation and should be refused. As an advocate of diplomacy, it's wise to ask questions rather than say something offensive. It's best to verify nothing is misinterpreted. As I read one offer, I said out loud, What?!
My Story
The messaging systems on each platform are time efficient. We can gain quick background information on each person and respond appropriately. In-between connecting, I take time to research the person's work before a conversation takes place.
A recent message was sent with an offer for me to participate in a company program. I always give every proposed idea an opportunity. So I followed the instruction to learn more. But the suggestions made little sense. In short, I was expected to pay a $45 monthly fee for the privilege to promote their website.
Meanwhile, an anxious-sounding second message arrived asking if I will participate. My reply was that I didn't understand the model. I wrote what I believed the case to be and then asked for further explanation. The note ended with the request to let me know if I misinterpreted the request. No reply came forth. I discontinued the communication about an offer to be refused.
Everyday life requires we pay close attention to the agreements we make, particularly those requiring expenditure. Entrepreneurship is particularly tough on individuals trying to remain profitable. For added insight, read "How Can You Boost Productivity?"
Offers making little sense and asking for payment:
Earn the listings to be proud of them and stand out. Paying for a title is meaningless.
Build your followings by providing substance, and grow business in the process. Paying for followers leads to a short-term arrangement.
Travel and pay for the honor of speaking
This last offer can break a person's bank account. Airline travel, time away from work, paying for accommodations and meals, plus paying to be on stage, all pave the way to bankruptcy.
A businessman recently shared that the statistics he reads suggest that very few are making ends meet as entrepreneurs. The best action is firmly refuse one-sided offers for remaining solvent. 
Your Story
As a beginning entrepreneur, some of these offers suggest that they will help build your audience. The idea of exposure to new audiences ignites hope of finally bringing in the needed cash. It's best not to allow ego to take over. Before accepting, take at least 24 hours to examine the pros and cons of moving forward.
Questions to Consider:
Will you see a benefit?

Is the outlay of cash worthwhile?

Are you over-stepping your budget?

Will your must-pay expenditures be met?

Can the money be put to better use?
Suggest Alternatives
Another way to decline an offer is to suggest alternatives for working together. Should the work sound of interest, suggest a collaborative effort of some sort. Ask if the ideas of referrals for one another will work. Should you admire what the person does, offer to promote one another without payment.
When you put out alternate ideas, some people will agree with them and others won't. It is always best to ask and find out the true nature of the person. View the questioning may as an alternate form of negotiation. Best of all, regrettable remarks do not enter the picture.
The steps above will lead you to find the better partnerships for improved results. Always strive for The Smooth Sale!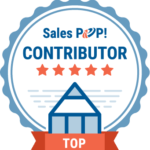 Visit EntrePerks for discounted proven services to assist with your business growth and goals for 2018.  
P.S. I've worked with @abdoriani to create guides for building a business with limited budget. Download the Guide here.
Enter the #giveaway of EntrePerks' $22,000+ savings, and,
Receive FREE – the First Chapter of my book, "The Wish: A 360 Business Development Process that Fuels Sales." 
         
Book and Consulting Packages Available ~ Contact us for details.