Photo via Pixabay
Attract The Right Job Or Clientele:
When starting, many wonder how is it possible to foresee your destiny? We are happy if the day goes well and have something good to look forward to on the weekend. But over time, we become aware of what we like, dislike, and the activities in which we prefer to participate. Being an admired figure isn't part of the equation as our answer is within each of us. To do our best work, it is best each day to keep in mind 'What Do You Want To Achieve Ultimately?'
Our personal and business lives intersect many times throughout the day and sometimes without realizing it and making it wise to analyze our choices. We repeatedly hear, 'you should do,' 'get this, you will love it,' and 'that's not a good idea!'
But the worst problem is listening to what others think regarding how we are each to live our lives. We each have one life to live to our fullest potential when we allow it to be so.
Live without regret.

My Story
A coach once advised me to leverage what works best. I apply the same to the types of people I interact with and the organizations I consider contributing my time.
The strategy can also apply to professional services in which we partake, some proving to be less 'professional' than we desire. Above all, I put integrity first and seek out those that do the same. It's another way to put the sales motto, 'Qualify and Match,' into play for a better outcome.
What is the underlying meaning of 'Qualify and Match?' Not everyone shares our priorities and values. Some are in business only to take your money no matter their profession, and others employed in the same field emphasize the client's welfare so that they can continue bringing in new business.
The other side of 'qualify and match' is to eliminate wasting time. As a former sales professional, upon hearing the answer of 'no' delivered to me, I would immediately ask for their meaning of the word, 'no.' Does your response mean:
Only until you have the money in the budget.

Now is not the opportune time, but we can set another date.

Am I to never contact you again?
You may find it curious why I would bother asking about the meaning of 'no.' Experiences show that occasionally the timing isn't right, but that doesn't rule out future potential business.
On the other hand, if 'no' is a permanent answer, it's best to know that up front. Instead of pondering whether to get back in touch or not and mulling over what just happened, it's best to move on to a new prospective client. The last thing anyone has time to do is waste time on a fruitless effort. The better reaction to hearing a 'no' is to smile, accept it, and realize you are free to make a fresh start.
The same applies to most endeavors. Considerable practice and refinement of our initial approach and strategies are part of our unending journey. As we put them to use to improve our statistics for hearing, finally, 'Yes!'
Giving up never solves anything and only increases self-pity, which can drag us down further. By continuing our drive to improve, eventually, we perform better and live up to most of our expectations, and on occasion, exceed them!
"Tomorrow is a blank canvas; begin painting your future today!
For More Insights: Visit Elinor's Amazon Author Page
"Communicate to Attract Interest"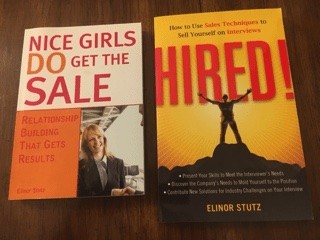 Be A Story-Teller
As the CEO of Smooth Sale, after her near-death experience, Stutz adapted the motto,
"Believe, Become, Empower."
"Nice Girls DO Get the Sale is an International Best-Selling and Evergreen Book – among the classics;
HIRED! Helped many to secure the job they desired.
Related Blog Stories:
If you are in the beginning stage of your career, you will do well to come to terms with where you are today and the status you eventually want to achieve. Take the time to analyze your choices and how you may improve for future outcomes. As you create lists of goals for the near term and distant future, consider which efforts bring the most joy. Consider the following:
Which efforts did you find the least enjoyable and why?

What do you want to avoid in the future if possible?

Is there a common element among the ones you like most?
Continuing the journey throughout our career and into the phase of 'retirement' we are to maintain a commitment to learning. Keep in mind that the last thing you ever want to feel is being obsolete. Finding a community or hobby to your liking and interests is an excellent way to get started on your future journey. Set a small portion of time aside to test before quitting your job so that you will have something to look forward to doing when you are ready to leave the work world. Again, invest the time to analyze your choices to improve tomorrow. It becomes almost as if you do foresee your destiny.
"It's never too late to try something new as you begin to foresee your destiny.
Sales Tips: How Do You Foresee Your Destiny?
Welcome the answer of 'no' to discover where it may take you.

As you question the 'no' response, watch for facial expressions and listen to the selected words.

Ask more questions to verify the 'no' is permanent or if a possibility for business exists later.

Up until midway in your career, set annual goals beyond what you believe is possible.

Focus on your year plan to achieve and exceed the set goals.

Midway in your career, consider how you can apply the enjoyable aspects of work to your personal life.

Set a more robust year-end goal as enthusiasm kicks in.

Begin thinking about how you may donate your expertise to a community that will welcome it.

Verify that you foresee your destiny and work out plans to reach your desired destination.

Celebrate Success!
Today's insights are provided to help you achieve the Smooth Sale!
RESOURCES FOR PERSONAL AND BUSINESS GROWTH:
Advisorpedia Publishes information to help advisors build their practice, and those having an interest in the markets choose investments and find inspiration.
BizCatalyst360 Presents a life, culture, and biz new media digest serving as a hub of creative expression and personal growth
CatCat Build your future one skill at a time.
For Book Lovers Only   For Book Lovers Only introduces you, the book lover, to new and exciting authors and works of fiction and non-fiction.   
GetCiara  Make remote your unfair advantage.
Greg Jenkins Consulting LLC – Helping organizations realize the value of diversity to build inclusive, evolving high-performing cultures.
Inclusion Allies Coalition "Everyone is welcome here." Learn more to train teams, and join the advocacy program.
Internet Advisor Find the internet service right for you among 2083 internet providers across 36,380 cities, plus Cellphonedeal compiles great deals on phones, plans, and prepaids to furnish you with the best options in your area.
Kred Connect with top-rated influencers to learn from and grow your networks.
LinktoEXPERT "It is not who you know – it is who knows you and what your expertise can do for them plus understands the value of hiring you."
Lotus Solution LLC Helps organizations create diversity and inclusion to ensure a fair and just workplace, through customized consulting, training, and keynote speeches.
SalesPop! Purveyors of Prosperity; how to compete against yourself to excel in your career.
Vengreso Provides easy-to-follow on-demand sales training for LinkedIn.
Vunela Provides a unique opportunity to view Videos and read articles by World Leaders.
WebTalk is the one-stop platform Build your marketplace and growing social connections.
Women's Information Network (WIN) An education-and-event-based Global Community of Women Helping Women Worldwide Live Their Best Lives through Celebration, Self-Improvement, and Service.