Attract The Right Job Or Clientele:
Note:  Rhonda Orr, CEO, BullyBuster.us provides today's inspiring guest story.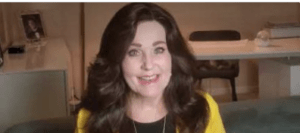 Rhonda specializes in helping young girls manage the effects of being bullied. She has been a life coach for girls for many years, having started two non-profit organizations fighting various forms of abuse, especially bullying.  Rhonda has also hosted two podcasts on bullying and the ways we can stop it. The current show is "BullyBuster," an interview-format show.  You may learn more about Rhonda below.
________________________
Resiliency is more than bouncing back; I learned on one great and beautiful day. It's more than saying "Ta-da" over and over, after each fall, and cheering yourself onward once again.
My efforts in 2018 to re-enter the demanding world of cosmetics and cosmeceutical senior corporate management were failing like a fish, thrown on the beach sand and left to flop there as the ocean withdrew its tide.
I'm not a victim of bullying again, am I?
There went the dreams of reclaiming my deserved spot in the hierarchy of senior management, with all the perks that used to come with it, such as a company car, travel to the most exciting places like Austria, Alaska, and the Bahamas (via cruise ship), company expense accounts, and on and on.
2007:  Learning to Soar High Above Adversity
As the Senior Executive Vice President of a multi-million-dollar cosmeceutical corporation, with an excellent six-figure salary and promised bonuses, I entered the 13,000 square foot building one day, only to find no one there.
It felt like a ghost town with our offices.  The research and development department and the warehouse empty were empty. It was the day I returned from my wedding and honeymoon a week before that. Many of the employees had been guests at my wedding. 
The building was empty, except for the C.E.O., who was the preening peacock of his family and work. He was also the one and only doctor of "the most effective and scientific-based cosmeceutical (pharmaceutical-based ingredients) skin-care company." He said he was letting me go because he suddenly couldn't even pay his employees.
How was this fathomable? We had just raised sales by 50 percent in the six months we were there. I was expecting a big bonus, not this.
I had hired the powerhouse sales team (some who made more money than me), but they also were let go.  As their former global Director of Education at another corporation, I had convinced all of them to come with me.  Like me, they were also bullied into taking a job as an employee with insulting salaries and commissions. I viewed them instead to be thriving as independent contractors.
I was abused and bullied, at that former position, not only by the founder/C.E.O. but surprisingly, by a long-time friend whom I was protecting from getting fired. She had not moved to San Diego, as promised. I never said, "Boo!" I went so far as to cover her territory and save her job. Instead, she got my job.
Can being a victim be a blessing?
No, not really, but making a choice not to stay a victim certainly can benefit your life.  No one chooses to be a victim. I hate "victim-blaming," and I cringe at the word "hate," so you know it's terrible. Here are two common shaming tactics used by bullies:
"She just wants attention; I know him, and he wouldn't do that."

"Why didn't you leave when that happened? I would have left."
The experiences and questions motivated me to start two nonprofits. The first one was because my father and his best friend sexually abused me, starting at age three until I was nine. His thirty-something single friend brought me a birthday gift. He said I was his special and secret friend.
What 30-year-old man does that? What nine-year-old girl knows what to make of that? How am I blamed? But I was.
When my former husband first raped me, someone very close to me said, "Why didn't you leave?" But bullying and abuse are psychologically complex. I lost my dignity and self-worth.
It was time I learn to soar high above adversity.  My first nonprofit in Los Angeles produced theater to create funds and awareness for existing child abuse organizations like Children of the Night and KidsPeace.
My second one, in Arizona, was to stop bullying. I was also a podcaster, columnist, and speaker for the cause. I've taught thousands of my Triangle of Triumph™.
I started my own Triangle of Triumph™ journey along the way. The first part is understanding we can only choose not to stay a victim, but with that single choice comes freedom, empowerment, and happiness, which is what bullies can't stand.
For those who say someone is attention-seeking, I say, "Well … yeah!" They need the right kind of attention, not shame.
2018:
I was turned down for that job in my former career for a reason. It soon became apparent that it wasn't part of my life's mission. What mattered was that job didn't define me.  The job didn't let me focus on the most important things, such as my mission to guide girls and women to healthy relationships through my Triangle of Triumph. ™
Saying, "You're such a survivor, Rhonda!" meant nothing to me. I didn't want just to exist!
Give Rhonda's instruction to soar high above adversity serious consideration:  My triangle starts with Victim and teaches how to follow the stages of grieving. Defining yourself before others do will empower you not to stay a victim. That's what bullies do: They use their negatives to thrust upon and describe you. They steal your confidence.
On the right side of the triangle is the word Survivor – which means defining yourself with our value-based 5Cs:
Civility – Be caring, considerate, and courteous (yes, manners)

Courage – Report predators

Confidence – Stand tall and have eye contact

Creativity – Develop and share your talents

Communication – With C.L.A.S.S.: Connect, Listen, Ask, Summarize, Suggest action.
The 5Cs translate to asking the who, what, when, where, why, and how, to define your uniqueness and the community you create.
Leadership is at the base of the triangle. I started with myself first to realize my unique mission in life. I'm an independent agent that desires a better culture, especially for girls and women. My media are speaking, podcasting, and writing. Besides my husband (my eternal companion) and my miracle son (indeed, he is the valiant man I prayed for through five years of infertility), I devote my life to changing the culture to one of civility.
I "branded" myself when I found my long-lost cousins, Bert, and Garna. I fell in love with them and their family, just like my favorite mentor, Grandma, "Bern." They are angels in my life. Every leader needs a mentor.
Resiliency is a journey.
We went to Bert and Garna's colossal ranch. It was there that the realization hit; "I've defined myself and branded myself. I'm not going to stop myself from springing into action.  I finally came into my true self at 60. Instead of being bullied, I discovered applause!
What I learned was that resiliency had seized my life thanks to my journey along the Triangle of Triumph™.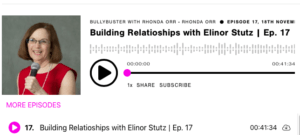 Aligning with Rhonda's thought, I was asked to be a guest on the BullyBuster podcast. No one is alone and it serves others to share our experiences.  Our dynamic conversation, is entitled, Building Relationships with Elinor Stutz | Ep. 17.
More About Rhonda
Rhoda is familiar with how to soar high above adversity:  I am a keynote speaker on these topics; I've addressed audiences from 10 to 5,000. One popular subject is my Triangle of Triumph. It illustrates the path from victim to survivor to leader. I developed it to heal from childhood sexual abuse, emotional abuse, bullying, and then the same treatment by former husbands.
In my professional career, I was a senior executive for several cosmetic and cosmeceutical corporations, traveling worldwide while caring for my young son as a single mom.
Should you have questions, I welcome connecting with you.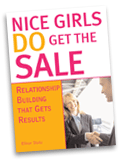 Related Blog Stories:
Sales Tips:  

Soar High Above Adversity
Address unkind remarks with questions 

Inquire about the other person's experience

Smile while standing up for what you believe

Fine-tune your list of good friends

Omit the feeling of obligation

Commit to your values and priorities

Do not compromise on what you believe to be right and fair

Take a martial arts class

Adopt the mindset you will soar high above adversity.

Celebrate Success!
Today's insights are provided to help you achieve the Smooth Sale!
RESOURCES FOR PERSONAL AND BUSINESS GROWTH: 
Advisorpedia  Publishes information to help advisors build their practice, and those having interest in the markets choose investments, and find inspiration.
BizCatalyst360  Presents a life, culture, and biz new media digest serving as a hub of creative expression and personal growth
CatCat Build your future one skill at a time.
For Book Lovers Only   For Book Lovers Only introduces you, the book lover, to new and exciting authors and works of fiction and non-fiction.   
GetCiara  Make remote your unfair advantage.
Greg Jenkins Consulting LLC  – Helping organizations realize the value of diversity to build inclusive, evolving high-performing cultures.
Inclusion Allies Coalition   "Everyone is welcome here." Learn more to train teams, and join the advocacy program.
Internet Advisor Find the internet service right for you among 2083 internet providers across 36,380 cities, plus Cellphonedeal compiles great deals on phones, plans, and prepaids to furnish you with the best options in your area.
Kred  Connect with top rated influencers to learn from and grow your networks.
LinktoEXPERT  "It is not who you know – it is who knows you and what your expertise can do for them plus understands the value of hiring you." 
Lotus Solution LLC Helps organizations create diversity and inclusion to ensure a fair and just workplace, through customized consulting, training, and keynote speeches.
SalesPop!   Purveyors of Prosperity; how to compete against yourself to excel in your career.
Vengreso Provides easy-to-follow on-demand sales training for LinkedIn.
Vunela  Provides a unique opportunity to view Videos and read articles by World Leaders.
WebTalk is the one-stop platform Build your marketplace and grow social connections. 
Women's Information Network (WIN) An education-and-event-based Global Community of Women Helping Women Worldwide Live Their Best Lives through Celebration, Self-Improvement, and Service.