Attract The Right Job Or Clientele:
Note: Our collaborative Blog provides insights for 'How To Let Loose During the Weekend.'
Although we may have obligations outside of work, they are typically less stressful. Moreover, the weekend is a great time to relax and enjoy hobbies, nature, or being with those about whom we care. The benefits are plentiful. By Monday, we are more relaxed and motivated to have helpful conversations with teammates and prospective clientele. And by being relaxed, we are more inclined to operate in the relationship selling model instead of a more aggressive style. Letting loose during the weekend is beneficial on many levels.
_________________________________________________
How and Why To Let Loose During The Weekend
The weekend is a time for fun and relaxation. We all need to let loose from the stress of work, school, or even family life. But, of course, it would be best if you had some routine that involves doing something every day to stay on track with your plans and goals. Some ways to relax on the weekends include going out for a favorite activity or hobby, meeting up with friends, traveling, playing sports, and gaming. Therefore, keep reading for more significant insights.
Why Is It Important To Relax and Rejuvenate?
Relaxing and rejuvenating is crucial because it allows the mind and body to rest from a busy week when you take a break from work. It can help you refocus for the new week and provide an opportunity to reflect upon plans and goals.
The importance of relaxing and rejuvenating is that it transforms and revitalizes the mind, body, and spirit. It helps you refocus your energy on what is important to you and allow for time to reflect upon plans and goals.
Go Out for Your Favorite Activity or Hobby
Enjoying your favorite activity, team building, or hobby is a great way to get out of your daily routine and enjoy yourself. Whether going to a sporting event, playing games at the arcade, or having drinks with friends, you should always do something that makes you happy.
Your hobby is ultimately something you do for yourself, so it doesn't have to be extravagant. Just think about what makes you happy and go from there. It will go a great way in making your weekend fun and a day to remember.
Have a Weekly Routine
Having a weekly routine is a great way to maintain a healthy lifestyle and recharge next week.
Routine activities include:
– Meals (breakfast, lunch)
– Meditate or do yoga in the morning while listening to your favorite music
– Exercise. It doesn't need to be strenuous, but it should leave you feeling free and relaxed afterward. You can also go swimming which is an activity that's less impactful on your body than other sports such as running or cycling.
– Visit friends or family members
Prepare yourself by having everything ready ahead of time, so you don't need to rush in the morning.
– Make sure to set your alarm next to your bed, so it's easy for you to hit snooze when necessary, but just once or twice. A great night's rest includes plenty of hours spent sleeping, high-quality sheets on top of an equally great mattress underneath them, and darkness where there should be none.
Having a weekly routine is an excellent way to remain both physically and mentally healthy. It also helps prevent unnecessary stress, which can turn into chronic health problems if left untreated for too long,
Meditate and Take Account of Your Plans and Goals
Understanding your objectives and goals is crucial because it allows you to set priorities and establish deadlines. It is essential for your productivity during the week, as well as your mental health.
Meditating can help improve your coping strategies with stressful situations. It helps you manage your emotions more effectively than turning to harmful habits like smoking or drinking too much alcohol. It also has numerous physical benefits ranging from improved cardiovascular function to reduced blood pressure and heart rate.
Travel
Traveling is a great way to let loose and recharge simultaneously. Not only is it a great form of escapism, but you can always learn something new or meet someone special when on the road.
Traveling does not have to be expensive either, as there are so many ways to make those expenses go down. For example, try staying with locals, camping under the stars, cooking your food instead of eating out all the time?
Traveling is never easy, but once you get into that habit of traveling frequently, there will be no stopping you. Traveling helps you to de-stress while also broadening your horizons. New experiences become yours that you can reflect on in the future when you are taking everything else for granted.
Sporting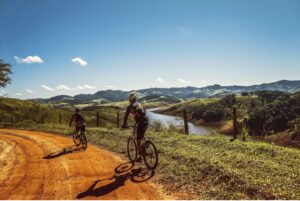 Sporting is a great way to have fun, take a break from work and give your mind some rest. You can go out for a run or cycling with friends during the weekend if you enjoy working in teams. If it's not possible because of time constraints, then why not try going solo? It is also a fantastic opportunity to discover new areas or cities near you, perfect for running or biking.
Gaming
Gaming is one of the most popular ways to relax and de-stress. People play video games for various reasons: some like to escape from reality, while others enjoy playing with friends or testing their skills against other gamers in a virtual battle. You can also buy new games or download them on your PC or console at home if you want more gaming time outside work hours.
Meetups With Friends
Meeting up with friends is a great way to let loose and have fun. However, don't forget to clarify your expectations that friends will not always be around. It is essential to prioritize relationships with those who make you happy and want the best.
You can do this by making a list of your closest friends, ranking them according to priority, and scheduling meetups at least once or twice a month. If possible, try meeting up every weekend. Plan ahead.
The Importance of Relaxing
Relaxing is essential because it allows you to recharge, refocus and get ready for the new week. Without recharging and refocusing, you will not be able to perform well at work or home.
You may have difficulty relaxing because you are constantly thinking about the future. Examples of concern include your job, family problems, and other issues that can cause stress. An ideal way to relax is changing your mindset by taking account of your life's goals and going over any plans for the week ahead.
Planning out what you want from life allows you to prioritize which activities should take place during the weekend. Include working on a side project or attending an event with friends instead of watching television all day long. It also gives you more reason to look forward to Monday, knowing that there is something exciting planned for the next week instead of dreading another endless day at work.
Conclusion
In conclusion, it is essential to relax and rejuvenate during the weekend for a variety of reasons. Performing well at work or home can be difficult without proper recharging, causing more stress instead of decreasing existing stress levels. The best way to recharge involves taking account of your life's goals and planning out what you want from the upcoming week ahead so that there are plenty of exciting activities planned.
You will feel much better throughout the day, knowing that there is something productive planned every weekday. And then allow yourself time on the weekends to let loose and enjoy life with friends and family members who make meaningful relationships in your life.
For More Insights:  Visit Elinor's Amazon Author Page
"Communicate to Attract Interest"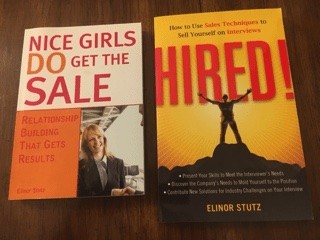 Be A Story-Teller
As the CEO of Smooth Sale, after her near-death experience, Stutz adapted the motto, 
"Believe, Become, Empower."
"Nice Girls DO Get the Sale is an International Best-Selling and Evergreen Book – among the classics;
HIRED! Helped many to secure the job they desired. 
Related Blog Stories:
Sales Tips: How To Increase Traffic And Improve Your Website Content Today!
Admit whether you have sufficient traffic or need to attempt something new.

Be willing to test your strategies to see if it's time to revise or revamp.

Begin combining methods such as branding, marketing, and business development.

Whenever a website catches your attention, stop to consider what it is that attracts you.

Decide whether the strategies of another website that appeals to you will work for you.

Become familiar with SEO practices and services that may assist.

From a sales perspective, review whether you speak to needs, wants, and deep-down desires.

Get recommendations to hire help in the areas in which you do not have expertise.

Monitor each new change to confirm it works well.

Celebrate Success!
Today's insights are provided to help you achieve the Smooth Sale!
RESOURCES FOR PERSONAL AND BUSINESS GROWTH:
Advisorpedia Publishes information to help advisors build their practice, and those having interest in the markets choose investments, and find inspiration.
BizCatalyst360 Presents a life, culture, and biz new media digest serving as a hub of creative expression and personal growth
CatCat Build your future one skill at a time.
For Book Lovers Only For Book Lovers Only introduces you, the book lover, to new and exciting authors and works of fiction and non-fiction.
GetCiara Make remote your unfair advantage.
Greg Jenkins Consulting LLC – Helping organizations realize the value of diversity to build inclusive, evolving high-performing cultures.
Inclusion Allies Coalition "Everyone is welcome here." Learn more to train teams, and join the advocacy program.
Internet Advisor Find the internet service right for you among 2083 internet providers across 36,380 cities, plus Cellphonedeal compiles great deals on phones, plans, and prepaids to furnish you with the best options in your area.
Kred Connect with top rated influencers to learn from and grow your networks.
LinktoEXPERT "It is not who you know – it is who knows you and what your expertise can do for them plus understands the value of hiring you."
Lotus Solution LLC Helps organizations create diversity and inclusion to ensure a fair and just workplace, through customized consulting, training, and keynote speeches.
SalesPop! Purveyors of Prosperity; how to compete against yourself to excel in your career.
Vengreso Provides easy-to-follow on-demand sales training for LinkedIn.
Vunela Provides a unique opportunity to view Videos and read articles by World Leaders.
WebTalk is the one-stop platform Build your marketplace and grow social connections.
Women's Information Network (WIN) An education-and-event-based Global Community of Women Helping Women Worldwide Live Their Best Lives through Celebration, Self-Improvement, and Service.