Attract the Right Job or Clientele:
Our communication style determines our outcome for sales.  Clients appreciate the professionally personal style that builds relationships and business. The process begins with a smile and the motivation to serve others well.
My Story
Three incidents illustrate that we all need to pay careful attention to what we say.  Consistent actions are to follow.
#1 Admit the Problem
Lee asked that I provide him with a video testimonial. I admire his work and promptly agreed. However, technology changes so quickly that the words were out of sync as I spoke. Given the gentleman's business prowess, I asked if he could recommend a different service. His suggestion was to use Screen-o-matic   The software proved easy to use and I was able to provide what was expected.
Typically, most people will not ask for help or go the extra mile to satisfy the outcome. Being open to learning and improving is what moves one further ahead in their livelihood.
#2 Negotiate A Better Outcome
New arrangements always take time for ironing out the details. On occasion, I accept guest blogs providing they follow the guidelines. One well-written piece was sent, but it did not live up to expectations. Friendly negotiation is always a requirement for these types of events. After a give and take of what each of us can and cannot provide, we agreed on how to proceed with the first and future guest postings.
Over the years, the blame game has been an experience no one enjoys. When there is a problem, it is always best to find the better path and eliminate pointing fingers.
#3 Provide and Accept Helpful Suggestions
Another typical error is that of people requesting group participation, but who omit the following: 
Easy to find call-in or connection information

Sending reminder email with the option to add a calendar date

Recording of the call for those unable to attend
After one such experience, I suggested that the above be considered for the next time.
We all make errors. But when we quickly admit them and attempt to correct, we stand out from almost everyone else. Integrity rescues the sale.
For further insight, Read "How Do You Define Value?"  When clients and collaborators see you attempting to do your best, they become a loyal returning and referring clientele. 
Your Story About Communication Errors
Although early in the new year, there is no doubt you have already experienced communication errors. Sort out the ones that come to mind and provide the best lessons. Recognize the takeaways to avoid in the future.
Did You:
Express annoyance with mishaps

Allow a negative attitude to negatively affect future business

Request ideas for a solution to proceed peacefully and on track?
When you strive to find the better ending, trust and credibility build in your favor. The positive attitude will position you either as the preferred sales representative or as a leader in your field. In both cases, loyalty develops as does a full pipeline of new possibilities.
Sales Tips to Avoid Communication
In every conversation ask for the perspective of others

Address anything you do not understand for clarification

Ask for the person's preferred method of communication

Omit emotion in your response to issues

Work toward the satisfaction of all parties

Always have the sales slogan in mind – 'keep it simple'

Ask for help and suggestions for improvement

Smile and be helpful

Serving others adds to the value you bring to the table

Celebrate Success!
         

Book Packages Available ~

email:

elinor@smoothsale.net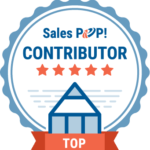 Visit EntrePerks for discounted proven services to assist with your business growth and goals for 2018.