Attract the Right Job or Clientele:
Invariably, close to year-end, we become more focused on the holidays while our supply of new ideas appears to run low. But we each want a running head start in January, so we need to resolve the problem.
My Story
A goodwill strategy that strengthens both personal and business relationships is to call those people who come to mind. I will call the person to wish them a happy holiday season, and the conversation takes off from there. Likewise, my friends do the same for me. During the call, ideas pop up in all regards for business.
Today, Morgan called to ask a question regarding her fees. As we spoke, I offered an introduction. In the meantime, I asked her a question about one of my projects. By the end, we each had a referral in hand and answers that we were seeking. Coincidentally, a previous blog asks the question, "How Good Are the Referrals You Receive?" 
Three more calls were received today, and each one produced either insight or a new referral. Although we are each in holiday mode, we are still promoting business connections and exchanging new ideas for further growth. As I list all of the ideas that sound appealing, I then prioritize the ones which I want to focus on first. By the time January arrives, I'm re-energized with the new plan.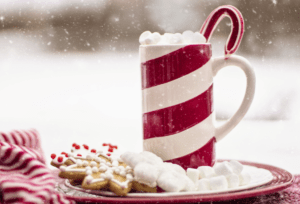 The holidays are a great time to connect with clientele to thank them for their business and treat them to coffee or lunch. Ask everyone you encounter about their plans and wish each an excellent holiday. The leisurely conversation almost always leads to additional referrals and business. And the bonus is knowing that your sales pipeline will not be drained, but instead will fill with possibilities in the New Year. 
Your Story
Do you find yourself slowing down as you begin to turn attention to the holidays? The first two weeks of December there is still time to secure substantial business. But be sure not to 'close' the sale. Instead, be on the lookout for jump-starting January. One plan of action is to recall all those who said: "not now, maybe later in the year."
The time is now, to start reconnecting with those people. Kindly remind each person they suggested you check back and inquire how they are doing. By the end of the conversation, wish each a nice holiday. While you may not get the business this year, it's likely they will be motivated by your call to continue the conversation next year.
Do you make calling peers before a holiday, a habit? People appreciate being remembered. Your call motivates a heart-to-heart conversation, and soon ideas are free-flowing between you to further business. It's one of the best business development tools available. In the end, your friendship blossoms putting you on track for developing a loyal returning and referring clientele.
Sales Tips
Throughout the year call those who come to mind.

Reach out to peers and clientele during the holidays

Lead engaging conversations on the phone that develop into an exchange of ideas

Offer referrals as they come to mind

After the calls decide which ideas appeal to you most

Create a plan of action for the thought friends share with you

Verify that the new plan builds upon what is already in place for consistency

Create messages and sound bites for your new offerings

Establish a social media plan to increase exposure to your work

Celebrate Success!
P.S. Send us your sales related questions to elinor@smoothsale.net.
For More Insights:   Visit Elinor's Amazon Author Page
"Communicate to Attract Interest"
As the CEO of Smooth Sale, after her near-death experience, Stutz adapted the motto, "Believe, Become, Empower."Nice Girls DO Get the Sale is an International Best-Selling and is Evergreen – among the classics; HIRED! Helped many to secure the job they desired. 

Today's insights are provided to help you achieve the Smooth Sale!
RESOURCES FOR PERSONAL AND BUSINESS GROWTH: 
Advisorpedia  Publishes information to help advisors build their practice, and those having interest in the markets choose investments, and find inspiration.
BizCatalyst360  Presents a life, culture, and biz new media digest serving as a hub of creative expression and personal growth
CatCat Build your future one skill at a time.
For Book Lovers Only   For Book Lovers Only introduces you, the book lover, to new and exciting authors and works of fiction and non-fiction.   
GetCiara  Make remote your unfair advantage.
Greg Jenkins Consulting LLC  – Helping organizations realize the value of diversity to build inclusive, evolving high-performing cultures.
Inclusion Allies Coalition   "Everyone is welcome here." Learn more to train teams, and join the advocacy program.
Internet Advisor Find the internet service right for you among 2083 internet providers across 36,380 cities, plus Cellphonedeal compiles great deals on phones, plans, and prepaids to furnish you with the best options in your area.
Kred  Connect with top rated influencers to learn from and grow your networks.
LinktoEXPERT  "It is not who you know – it is who knows you and what your expertise can do for them plus understands the value of hiring you." 
Lotus Solution LLC Helps organizations create diversity and inclusion to ensure a fair and just workplace, through customized consulting, training, and keynote speeches.
SalesPop!   Purveyors of Prosperity; how to compete against yourself to excel in your career.
Vengreso Provides easy-to-follow on-demand sales training for LinkedIn.
Vunela  Provides a unique opportunity to view Videos and read articles by World Leaders.
WebTalk is the one-stop platform Build your marketplace and grow social connections. 
Women's Information Network (WIN) An education-and-event-based Global Community of Women Helping Women Worldwide Live Their Best Lives through Celebration, Self-Improvement, and Service.