Photo by Bruce Mars via Unsplash
Attract The Right Job Or Clientele:
Zach Loeb provides today's guest Blog, The Career Journey: An Experience Worth Living.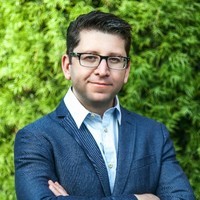 Zach Loeb, Founder The New Agency.
Zach Is the Founder of The New Agency, a corporate wellness agency that enables organizational leaders to build a custom employee wellness program for their team. His programs package a diverse blend of impactful and engaging activities that drive results. He works with you to create the environment of an experience worth living.
Introduction
Activities include yoga, meditation, fitness, nutrition, conscious communication, outdoor adventures, executive retreats, leadership training, and more. Depending on company location, activity type, and wellness budget, they can take place virtually, outdoors, in a private studio, or at the workplace.
With a holistic approach to building wellness programs, The New Agency aims to establish more balanced and effective wellness practices that help with stress management and fitness, lower turnover rate, reduce absenteeism, increase productivity, and build stronger teams.
_____________________________________________________
Discovering Career Ambition to Find
An Experience Worth Living
After graduating from college, I found myself unsure about which career path was right for me like many others. So, I embarked on the epic journey of searching for a fulfilling and purposeful profession. After charging through a plethora of interviews in a broad range of industries, from advertising to finance to education, I found myself keenly interested in the actual processes of recruiting and career development.
Hitting The Career Plateau
I enjoyed the lucrative and dynamic nature of my roles in recruiting and career development for Fortune 500 companies for several years. Helping others find their direction via corporate matchmaking and career consulting was fulfilling to a certain degree. I like connecting people to opportunities, to one another, and in a way, themselves. Even though my work in linking employees with businesses was having a positive impact, I had this feeling that I could do more.
Pivoting To Entrepreneurship
I began to think of more expansive ways to apply my talents and ambitions. In my work line, I noticed that employers' role in assisting and encouraging employee wellness was limited. Employee wellness programs often lack authentic engagement, yet statistics show that they positively impact employees, increasing their productivity and, in turn, increasing company profitability.
Discovering Market Need
The market need for fun performance-enhancing wellness programs was real. Plus, through personal experience and research, I uncovered that there were plenty of independent wellness facilitators who provided the types of wellness activities I had in mind. Most cities had started to hold a healthy collection of nutritionists, meal planners, yoga instructors, meditation guides, intuitive, retreat hosts, fitness instructors, team builders, leadership trainers, and more.
Connecting The Dots
Realizing both the corporate wellness need and the availability of facilitators to fill that need, I resolved to create a wellness agency to bridge the wellness provider and corporate worlds.
Founding The New Agency & Startup Challenges
I founded The New Agency in 2020 and recruited a team to help with the launch. Soon I had established a company with a brand, website, and promotional materials and was ready to begin early-stage marketing. Then the pandemic hit. I didn't need to be an economist to see that the Coronavirus significantly increased the market need for employee wellness but soon learned that market need wasn't everything.
As The World Quarantines
I started implementing multiple marketing strategies, from social media ads and outreach to virtual networking events. The data began to show something peculiar. The corporate wellness / human resources managers that I was mainly targeting appeared to have a genuine interest in the eclectic and customizable employee wellness programs I was offering, but few seemed to be in a position to take action.
Business leaders focused on sanitation protocol, emergency budgeting, and product/service pivots to stay afloat. Many couldn't adapt quickly enough and had to close as a result. While the need for wellness was there, more than ever, it seemed to have been pushed aside as emerging pandemic priorities took the stage.
Opportunities & Pivots
Launching a corporate wellness company during the pandemic presented an opportunity to determine how employee wellness needs would shift as a result. Since we were a new company, it was straightforward to pivot our services to meet the needs of the time and gain a competitive edge. We added more virtual wellness and outdoor activity options to the mix and focused on website and program development while the global event began playing out.
Enduring The Hardship Until Sunrise
With many businesses still struggling from the pandemic, the need for corporate wellness grows. Fostering a culture of wellness can help employees thrive rather than merely survive, empowering leaders to weather the storm and sail their business into the sunrise. The New Agency continues to expand and adapt its service offerings, enabling greater access to a range of engaging and impactful wellness activities that help to meet challenges emerging from these evolving times.
My Early-Stage Career Advice To You
When choosing a profession, it's essential to identify your interests, strengths, and values. Ideally, your career will ignite passions that make your work fun and purposeful rather than leave you counting the insufferable minutes until the end of the day.
Recognize that there are no guarantees. What you are passionate about today may not be the same as what you are passionate about in five years. Often, it's a matter of taking that first step in the direction that elicits a spark of excitement and seeing where it goes. If you find yourself desiring change, you can pivot. You can leverage your experience even if that experience comes from a field or industry that appears to be entirely different from the one you are inspired to migrate.
While it's key to have long-term goals, also keep in mind that the journey is a reward in and of itself. Your work makes up a significant part of your life, and it should be an experience worth living.
So what career path are you currently on? Why did you choose that path out of all others? Are you thinking of making a pivot? Give the idea some thought and contact us should you have questions.
For More Insights: Visit Elinor's Amazon Author Page
"Communicate to Attract Interest"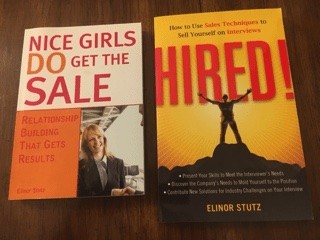 Be A Story-Teller
As the CEO of Smooth Sale, after her near-death experience, Stutz adapted the motto,
"Believe, Become, Empower."
"Nice Girls DO Get the Sale is an International Best-Selling and Evergreen Book – among the classics;
HIRED! Helped many to secure the job they desired.
Related Blog Stories:
Sales Tips: The Career Journey: An Experience Worth Living
Realize your talent.

Recognize how you perform differently than others to do well.

Capitalize on your differentiation.

Transform your unique style into your brand.

Verify the areas of your repertoire that you most enjoy.

Leverage what you want and enjoy most into new revenue streams.

Serve your clientele well by delivering value.

Revise efforts that do not produce well to improve future outcomes.

Research what others in your industry do that may spark ideas to test.

Celebrate Success!
Today's insights are provided to help you achieve the Smooth Sale!
RESOURCES FOR PERSONAL AND BUSINESS GROWTH:
Advisorpedia Publishes information to help advisors build their practice, and those having an interest in the markets choose investments and find inspiration.
BizCatalyst360 Presents a life, culture, and biz new media digest serving as a hub of creative expression and personal growth
CatCat Build your future one skill at a time.
For Book Lovers Only For Book Lovers Only introduces you, the book lover, to new and exciting authors and works of fiction and non-fiction.
GetCiara Make remote your unfair advantage.
Greg Jenkins Consulting LLC – Helping organizations realize the value of diversity to build inclusive, evolving high-performing cultures.
Inclusion Allies Coalition "Everyone is welcome here." Learn more to train teams, and join the advocacy program.
Internet Advisor Find the internet service right for you among 2083 internet providers across 36,380 cities, plus Cellphonedeal compiles great deals on phones, plans, and prepaids to furnish you with the best options in your area.
Kred Connect with top-rated influencers to learn from and grow your networks.
LinktoEXPERT "It is not who you know – it is who knows you and what your expertise can do for them plus understands the value of hiring you."
Lotus Solution LLC Helps organizations create diversity and inclusion to ensure a fair and just workplace, through customized consulting, training, and keynote speeches.
SalesPop! Purveyors of Prosperity; how to compete against yourself to excel in your career.
Vengreso Provides easy-to-follow on-demand sales training for LinkedIn.
Vunela Provides a unique opportunity to view Videos and read articles by World Leaders.
WebTalk is the one-stop platform to Build your marketplace and growing social connections.
Women's Information Network (WIN) An education-and-event-based Global Community of Women Helping Women Worldwide Live Their Best Lives through Celebration, Self-Improvement, and Service.