Attract the Right Job Or Clientele:
Three Things Can Help You Be More Productive
In the constant quest to work smarter instead of harder, productivity technology continues to evolve. With a few essential devices and applications, you can squeeze more each day. You will get more accomplished, but you'll be able to create more free time for yourself. Why? Because the following three things can help you be more productive.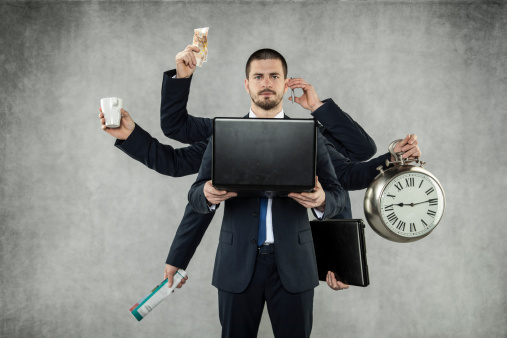 No matter your industry, increased productivity is always a good thing.
Stay Grounded with a Cloud Phone
The discussion about Voice over Internet Protocol (VoIP) vs. traditional landlines is over. If you're not convinced, ask a payphone – if you can find one. Web-based calling is more affordable, customizable, and has more features. But basic VoIP only results in primary productivity. As discussed in the article "Can a Cloud Phone Increase Business Productivity?" cloud phone systems come with presence information, mobile integration, and find-me-follow-me technology.
Cross-Device Cloud Organizers
The day planner is dead – or at least dying. But the digital calendars that replaced day planners are on their way out, too. Integrated, cross-device organizers (the most widely used of which is probably Evernote) unify everything from notes to PDFs to images across the user's phone, tablet, and computer. With a simple password, your portfolio can be accessed from any computer.
Collaboration Software: Be More Productive 
Collaboration software such as Podio brings team members together no matter where they are. Assign tasks, discuss projects, coordinate schedules, and even handle payroll by using collaboration software as your home base.

Get more done with cloud technology.
No matter what your business or job search is, productivity is the game's name. Boost your ability to make every hour more efficient with technology designed to keep you organized and streamlined. Consider implementing the three things that can help you be more productive.
Andrew Lisa is a freelance technology writer. He covers business tech and personal software.
Following Lisa's suggestions will help fast-track 2015.
Following the guidelines above will enable the Smooth Sale!
"Communicate to Attract Interest"
Be A Story-Teller
As the CEO of Smooth Sale, after her near-death experience, Stutz adapted the motto,
"Believe, Become, Empower.
"Nice Girls DO Get the Sale is an International Best-Selling and Evergreen Book – among the classics;
HIRED! Helped many to secure the job they desired.
Related Blog Posts:
Today's insights are provided to help you achieve the Smooth Sale!
RESOURCES FOR PERSONAL AND BUSINESS GROWTH: 
Advisorpedia  Publishes information to help advisors build their practice, and those having an interest in the markets choose investments and find inspiration.
BizCatalyst360  Presents a life, culture, and biz new media digest serving as a hub of creative expression and personal growth.
CatCat Build your future one skill at a time.
For Book Lovers Only   For Book Lovers Only introduces you, the book lover, to new and exciting authors and works of fiction and non-fiction.
GetCiara  Make remote your unfair advantage.
Greg Jenkins Consulting LLC  – Helping organizations realize the value of diversity to build inclusive, evolving, high-performing cultures.
Growth Hackers – Helping businesses worldwide grow with lead generation, growth marketing, conversion rate optimization, data analytics, user acquisition, retention, and sales.
Inclusion Allies Coalition   "Everyone is welcome here." Learn more to train teams, and join the advocacy program.
Internet Advisor Find the internet service right for you among 2083 internet providers across 36,380 cities, plus Cellphonedeal compiles great deals on phones, plans, and prepaids to furnish you with the best options in your area.
Kred  Connect with top-rated influencers to learn from and grow your networks.
LinktoEXPERT  "It is not who you know – it is who knows you and what your expertise can do for them plus understands the value of hiring you."
Lotus Solution LLC Helps organizations create diversity and inclusion to ensure a fair and a just workplace through customized consulting, training, and keynote speeches.
SalesPop!   Purveyors of Prosperity; how to compete against yourself to excel in your career.
Simma Lieberman "The Inclusionist" helps develop inclusive leaders from the inside out to champion diversity and build equitable, inclusive cultures at every level.
Vengreso Provides easy-to-follow on-demand sales training for LinkedIn.
Vunela  Provides a unique opportunity to view Videos and read articles by World Leaders.
WebTalk is the one-stop platform. Build your marketplace and grow social connections.
Women's Information Network (WIN) An education-and-event-based Global Community of Women Helping Women Worldwide Live Their Best Lives through Celebration, Self-Improvement, and Service.