Photo by WikiImages / 1174 images
Attract the Right Job Or Clientele:
Are You Aware of the Boomerang Effect?
What we communicate, whether online, verbally, or written, return to us tenfold and is known as the boomerang effect. The process begins with our mindset. Should one's ego take control, there is little to embrace for the outcome. But upon viewing those we meet as an equal and striving to uncover their desires, we have an opportunity to grow business substantially, often together.
The result of the boomerang effect is more significant than most realize upfront. For example, disrespect and the lack of inclusion of others will have many people avoiding you. Worse, the poor word of mouth will spread to their connections, poorly affecting all efforts and harming potential business growth. On a positive note, when we strive to connect with those with similar values and priorities for a collaborative effort, we can grow a more robust audience and businesses more adeptly and successfully.
Forecasting an accurate prediction for an outcome is unlikely. Therefore, it is in our best interest to realize the better actions to take upfront for our reputation, branding, and business growth, plus all else. We can do so by asking insightful questions that reveal how we may work together to benefit everyone.
My Story
Attending a conference or networking event only to have others dismiss us and our experience is insulting and can be humiliating. Worse, done with meanness, can have a person privately wonder if it's time to call it quits. The better action is to find a group of welcoming people, diverse in nature, who invite learning and a collaborative approach to highlight the work and achievements of one another. I faced the dilemma many times over considering new possibilities. And each time, private reflection became a process for reconfirmation to continue on my path and be my authentic self.
Business growth requires grooming a robust following to convert into our clientele. Therefore, building a reputable company requires an inviting and genuine interest in others. Conversely, growing a business involves introspection, confirmation of goals, and the most desirable outcome when all is complete.
One strategy that sells best and is a sure plan for business growth is to ask appropriate questions in a friendly voice and demeanor. Attitude is detectable from far away. It's necessary to align words, actions, deeds, gestures, and energy in one's communications to a welcoming posture.
During initial contact, asking questions and finding commonalities will enable the following:
You will have a firm grounding
You become acquainted with your prospect in multiple ways
It becomes easier to build the relationship over time
The conversation advances as more details reveal themselves
Ultimately the questions will lead to a friendly negotiation and the sale satisfactory for all.
The beauty of asking questions throughout the conversation for understanding and clarity is that it will also eliminate the embarrassment of making incorrect assumptions.
The benefits for asking questions of prospective clients are:
Establish credibility
Become trustworthy
Build the relationship
Be the recipient of confidential information for only you
Build the value of what you provide on multiple levels
Eliminate the harsh negotiation tactics and replace them with a friendly conversation.
Earn the sale and a loyal clientele dedicating itself to delivering introductions and heartwarming testimonials.
The better boomerang effect is the surprise opportunities you never saw coming! Management will do well to train their staff on better communication methods, including public speaking. The training and practice will pay dividends via a growing and referring clientele. Making the boomerang effect work to your benefit will increase your bottom line, whether you are a sales professional, small business, or large corporation.
Your Story: Aware of the Boomerang Effect
Reflect on recent conversations, events, connections, and the results you experienced. If need be, the first place for improvement is to admit what you can improve upon in the future.
Consider the following:
If you are the type who likes to talk, will it be possible to pare the monologue back for an equal contribution to the conversation.
Should you quickly dismiss unusual ideas, consider taking the time to ask questions for more insight the next time. Admit whether you ask insightful questions to gain a better footing in meetings. Is it time to strive to become known as the person who makes many inquiries to gain a better understanding and footing?
As you review current sales, business growth, partners, and the ongoing branding effect, admit whether the business growth is as you desire, or something may be missing. If the latter, give a positive boomerang effect a try by striving to engage better with those you meet via asking questions. Upon gaining the insight, you will have what you need to deliver, as others hope you will. Accordingly, you will enjoy the positive boomerang effect.
In Conclusion:
Working on behalf of those you serve and connect with will work in your favor. Best of all, you will employ the positive boomerang effect for achievements beyond all expectations.
For More Insights: Visit Elinor's Amazon Author Page
"Communicate to Attract Interest"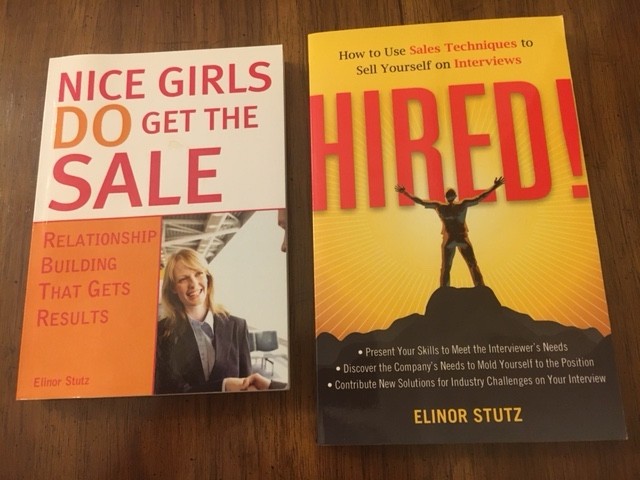 Authentic Relationships Are Essential
Be A Story-Teller
As the CEO of Smooth Sale, after her near-death experience, Stutz created the motto,
"Believe, Become, Empower"
" Nice Girls DO Get the Sale is an International Best-Selling and Evergreen Book – among the classics;
HIRED! Helped many to secure the job they desired.
Related Blog Stories:
Sales Tips: Are You Aware of the Boomerang Effect?
Keep your long-term goal in mind at all times.
Develop a welcoming attitude for all.
When others attempt to knock you down, say thank you and quickly move away to eliminate wasting your time.
Seek out collaborative professionals wanting to learn from and collaborate.
Ask insightful type questions in every conversation to find areas of commonality.
Connecting online includes the reason you want to connect and the question if they might want a conversation.
A good question to ask at events is, 'what caught your attention to attend the event?'
Ask new prospects what caught their attention for agreeing to a meeting.
Always inquire about the goals of individuals and companies to discern if you may be able to help.
Celebrate Success!
Today's insights are provided to help you achieve the Smooth Sale!
RESOURCES FOR PERSONAL AND BUSINESS GROWTH:
Advisorpedia Publishes information to help advisors build their practice, and those interested in the markets choose investments and find inspiration.
BizCatalyst360 Presents a life, culture, and biz new media digest serving as a hub of creative expression and personal growth.
CatCat Build your future one skill at a time.
For Book Lovers Only For Book Lovers Only introduces you, the book lover, to new and exciting authors and works of fiction and non-fiction.
GetCiara Make remote your unfair advantage.
Greg Jenkins Consulting LLC – Helping organizations realize the value of diversity to build inclusive, evolving, high-performing cultures.
Growth Hackers – Helping businesses globally grow with lead generation, growth marketing, conversion rate optimization, data analytics, user acquisition, retention, and sales.
Inclusion Allies Coalition "Everyone is welcome here." Learn more to train teams, and join the advocacy program.
Internet Advisor Find the internet service right for you among 2083 internet providers across 36,380 cities, plus Cellphonedeal compiles great deals on phones, plans, and prepaids to furnish you with the best options in your area.
Kred Connect with top-rated influencers to learn from and grow your networks.
LinktoEXPERT "It is not who you know – it is who knows you and what your expertise can do for them plus understands the value of hiring you."
Lotus Solution LLC Helps organizations create diversity and inclusion to ensure a fair and just workplace through customized consulting, training, and keynote speeches.
SalesPop! Purveyors of Prosperity; how to compete against yourself to excel in your career.
Simma Lieberman "The Inclusionist" helps develop inclusive leaders from the inside out to champion diversity and build equitable, inclusive cultures at every level.
Vunela Provides a unique opportunity to view Videos and read articles by World Leaders.
WebTalk is the one-stop platform. Build your marketplace and grow social connections.
Women's Information Network (WIN) An education-and-event-based Global Community of Women Helping Women Worldwide Live Their Best Lives through Celebration, Self-Improvement, and Service.