Photo by Geralt via Pixabay
Attract the Right Job Or Clientele:
Are You Ready to Foster Innovation Through
Diversity Leadership and Leading Inclusion
NOTE: Simma Lieberman, The Inclusionist, provides today's guest blog, 'Are You Ready to Foster Innovation Through Diversity Leadership and Leading Inclusion?'

Simma Lieberman creates inclusive workplaces where employees love to do their work, and customers love to do business. Simma hosts the RaceConvo Podcast featuring guests who lead the way on topics regarding diversity, equity, and inclusion. Click this link to hear the outstanding insights: https://raceconvo.com/
_______________________________________________________________
Innovation Through Diversity Leadership and Leading Inclusion
Innovation is essential in our business era of speed, competition, and globalization. You never know where the following great product, process, or profit builder will originate.
Good Diversity Management and Culturally Intelligent Leadership can make the difference between repeatedly hearing mediocre ideas from the same people or mining the hidden genius in your organization for breakthrough ideas.
Conversely, not knowing how to access that genius or motivate employees to be creative will eventually make you and your products commodities competing for lower prices.
Here are ten ways a culturally intelligent leader who practices good diversity management can plant the seeds of self-leadership and accelerate employee innovation.
1. Communication Awareness.
Be conscious of the way you communicate with employees.
Ask yourself, "Are they comfortable talking to me about their work, asking questions, and giving me suggestions?" If the answer is no, find out why, and if yes, strive to improve continually.
Innovation can often come from the lower levels, but if you don't know how to communicate with everyone, they won't share ideas, nor will they feel invested in the organization. When people feel seen and heard and feel like they belong, they will share their genius and add significant value to the organization.
Make a habit of interacting with the people on your team with whom you may need to learn more or with whom you are least comfortable. Identify the reasons for your discomfort so that you can move through it.
2. Small Wins Become A Team Effort.
Be informed about your employees but don't micromanage. Acknowledge the progress made by people on your team, no matter how small.
Research by Theresa M. Amabile and Steven J. Kramer shows that employees are motivated when their managers know and acknowledge even their small wins. That means finding ways to recognize those wins.
3. Introspection Provides Insight.
Be introspective and be honest about your biases and assumptions. Your behavior that results from those biases and assumptions can impede participation and innovation.
Ask yourself:
A. Whom am I not seeing?
B. Do I greet all employees or just the ones who are like me?
C. Do I walk past any employees without saying hello?
D. Who remains silent in team meetings?
E. Whose opinions am I minimizing due to bias about work level, function, or salary?"
Your bias and assumptions about people different than you often translate to giving credibility to people most like you while minimizing the contributions of others. Employees who feel unacknowledged and invisible lose their motivation and feel alienated from the organization.
4. Learn and recognize the different appearances of intelligence.
and corporate contributions.
Stop being stuck in recognizing and respecting only one type of intelligence (yours.)
5. Request Sharing From All.
Let other people share their expertise, talent, and experience, even when their ideas differ. You may find their vision is better.
6. Remove Limiting factors.
Let go of old parameters, limits, and processes for innovation.
Open your mind, expand your vision, and allow for limitless possibilities when people think differently and start thinking together.
7. Invite Creativity and Varying Thought.
Create opportunities for employees from different functions, departments, levels of experience, and talents to work together as equals. Managers who expect employees to "go along with the program" and follow orders discourage creativity and innovation. When creative employees feel stifled, they will take their genius to another organization, possibly your competition, where they can flourish,
8. Increase enthusiasm.
Welcome the excitement from the synergy of ideas flowing from all directions. Employees with diverse viewpoints continue to build on each other's brilliance to develop "the next big thing" that will set you far above everyone else in your industry.
9. Be the Cheerleader.
Be a cheerleader for other people's intelligence when they know more about a subject or work area than you. Allow them the independence and tools they need to create a product or process that astounds almost everyone. Their brilliance will shine a light on you and your ability to support your employees.
In Conclusion: Foster Innovation Through Diversity Leadership and Leading Inclusion
Who better to develop a process that makes their work faster, easier, and more productive than the people doing the work? Who better to suggest a new product that changes lives than those who will use it? Cheer yourself for being the kind of leader who is brave enough to let others shine and stays out of the way of oncoming breakthrough innovation. By committing to being the one to foster innovation through diversity leadership, you will undoubtedly gain success in ways never before imagined.
For More Insights: Visit Elinor's Amazon Author Page
"Communicate to Attract Interest"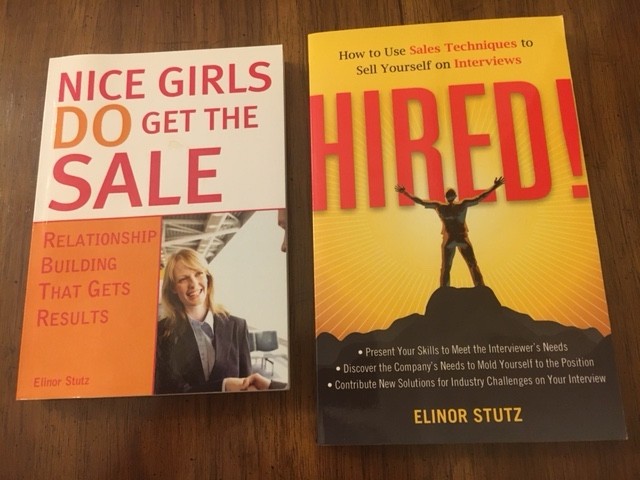 Authentic Relationships Are Essential
Be A Story-Teller
As the CEO of Smooth Sale, after her near-death experience, Stutz created the motto,
"Believe, Become, Empower"
" Nice Girls DO Get the Sale is an International Best-Selling and Evergreen Book – among the classics;
HIRED! Helped many to secure the job they desired.
Related Blog Stories:
Sales Tips: Foster Innovation Through Diversity Leadership and Leading Inclusion
Growing a business and an admirable reputation today requires innovation through diversity, leadership, and leading inclusion.
When we dismiss a person, we also dismiss their experience, which fosters ideas for future growth.
An inclusive environment invites exponential growth due to encouraging a collaborative effort.
The exponential factor is more than most realize; ten ideas working together and multiplying out equals 3,628,800 possibilities (10x9x8x7x6x5x4x3x2x1).
Begin viewing employees as your clientele to experience long-term loyalty and gains.
Branding precedes sales, and the excellent inclusion of employees will spread for exceptional notoriety.
Large corporations do well to create all-teams meetings monthly to encourage inter-office dialogue.
Departmental inter-change can significantly increase creative thought and ideas for new products and services.
Growing services and offerings, plus an enthusiastic workforce, will generate a broader clientele.
Celebrate Success!
Today's insights are provided to help you achieve the Smooth Sale!
RESOURCES FOR PERSONAL AND BUSINESS GROWTH:
Advisorpedia Publishes information to help advisors build their practice, and those interested in the markets choose investments and find inspiration.
BizCatalyst360 Presents a life, culture, and biz new media digest serving as a hub of creative expression and personal growth.
CatCat Build your future one skill at a time.
For Book Lovers Only For Book Lovers Only introduces you, the book lover, to new and exciting authors and works of fiction and non-fiction.
Greg Jenkins Consulting LLC – Helping organizations realize the value of diversity to build inclusive, evolving, high-performing cultures.
Growth Hackers – Helping businesses globally grow with lead generation, growth marketing, conversion rate optimization, data analytics, user acquisition, retention, and sales.
Inclusion Allies Coalition "Everyone is welcome here." Learn more to train teams, and join the advocacy program.
Internet Advisor Find the internet service right for you among 2083 internet providers across 36,380 cities, plus Cellphonedeal compiles great deals on phones, plans, and prepaids to furnish you with the best options in your area.
Kred Connect with top-rated influencers to learn from and grow your networks.
LinktoEXPERT "It is not who you know – it is who knows you and what your expertise can do for them, plus understands the value of hiring you."
Lotus Solution LLC Helps organizations create diversity and inclusion to ensure a fair and just workplace through customized consulting, training, and keynote speeches.
SalesPop! Purveyors of Prosperity; how to compete against yourself to excel in your career.
Simma Lieberman "The Inclusionist" helps develop inclusive leaders from the inside out to champion diversity and build equitable, inclusive cultures at every level.
Vunela Provides a unique opportunity to view Videos and read articles by World Leaders.
WebTalk is the one-stop platform. Build your marketplace and grow social connections.
Women's Information Network (WIN) An education-and-event-based Global Community of Women Helping Women Worldwide Live Their Best Lives through Celebration, Self-Improvement, and Service.