Photo by Geralt via Pixabay
Attract the Right Job Or Clientele:
Do You Bring Negotiations to Successful Conclusions?
We have all experienced heated ups and downs concerning conversations for business and personal reasons. Avoiding anger is essential for finding a solution to which all parties willingly agree. Accordingly, we need to reflect on whether our actions help to resolve issues or harm business growth and personal connections.
Swami Vivekananda said, "Standup, be bold, be strong." Although we never met, I have always adhered to those words. My differentiator in corporate sales is to use a polite and inquisitive tone to bring negotiations to a successful conclusion.
My Story
Our communication style, including body language, significantly impacts the outcomes. Moreover, our tone of voice encourages or discourages attempts to find an agreeable solution. Personal encounters are the trickiest to deal with in that other people we know will often be involved on the backend and connected with our friends, like it or not.
This morning's conversation brings up points for future negotiations when dealing with business or personal matters. Upon receiving a call, the person on the other end ranted and trashed my seeming tactics. His yelling drowned out my attempts to calm him down to explain my perspective. Suddenly, he ended the call.
At the issue's core, I documented all facts concerning an older gentleman's health issues and his need for better planning. The written word cannot be revised or manipulated in future conversations; it's akin to being written in stone. According to the person yelling, I should have met face-to-face with the man in question, who is putting his and the health of others at risk. Moreover, he always puts himself front and center and will dismiss, belittle, and alter anything not in writing. Part of my concern is for the man's family members to understand his dire situation and make the right plans concerning his well-being.
Planning Throughout Our Lifetime
Just like planning goals and strategies for business, we each need to prepare for our later years in life. Examples include an official trust with Power of Attorney and an almost effortless inheritance transfer. I sold long-term care insurance long ago, and people told me then that the new concept was ridiculous. However, the irony came decades later when the same people purchased the insurance at a much higher rate. Poor health and declining abilities necessitate a hefty savings account or the correct insurance obtained while younger and in good health.
Sales Perspective: Work for the Greater Good
Putting facts to paper was better for the person in question as he won't listen, particularly to a female. Once family members see the specifics, altering or omitting them will be non-negotiable. Moreover, citing potential harm to several others and himself due to the demands put on them for assistance is inarguable. It needed to be spelled out for his family heirs to make essential decisions for forthcoming necessary care. 
Ten minutes later, the person previously ranting called to apologize, but still needing to 'win' the argument, stated that no one in our immediate group would agree with what I wrote and may further increase tension among us. I responded, "Perhaps you still do not agree, but behind the scenes, the others told me they agreed with the facts on paper and that I have incredible courage to state them openly." Furthermore, my goal is to reduce potential harm to the person in question and those in his inner circle. 
Childhood Advice
' Speak up for yourself, or no one else will.' Expanding upon it, 'help others speak up in dire situations when they fear doing so.'
Vindicated
One person continually helping the person in question is putting himself in jeopardy due to his unique health issues. Upon seeing the document, his spouse emailed to ask for my phone number and then called to thank me for having the courage to speak up out of necessity.
Our values and priorities always need to be harmonious in all that we do. Exceptions do not work out well. And when someone attempts to play the 'guilt strategy,' it's time to speak up for oneself and others involved. It is how you retain a good reputation and model leadership for those following in our footsteps.
Your Story: Work for the Greater Good
Not every conversation will be pleasant, but the ones giving discomfort are typically necessary. Letting the other person begin the conversation to share their perspective is best. Like sales, ask questions about anything you do not understand and clarify your statements they do not fully comprehend.
Upon hearing a question that may surprise you, inquire why the person is asking to provide a better answer. If you disagree, offer suggestions to find a solution agreeable to all. Sometimes, we must explain ourselves, including our beliefs and goals. Whether a sale or a personal disagreement, the outcome intent is to reach an acceptable agreement and move forward together.
The disturbance generally subsides upon people realizing that you seek an outcome beneficial for all. Only then will agreement occur. Clients and personal connections realizing that you are looking to work toward the greater good typically relent and will agree to move forward with you.
In Conclusion: Bring Negotiations to Successful Conclusions
Working on behalf of everyone involved in actions and strategies will likely lead to a better outcome. Stand up for what is right, and never let anyone put you off course because they feel uncomfortable. Often, a calm explanation and a time-lapse will help others initially not in agreement realize the significance of your point of view.
For More Insights, Visit Elinor's Amazon Author Page
Communicate to Attract Interest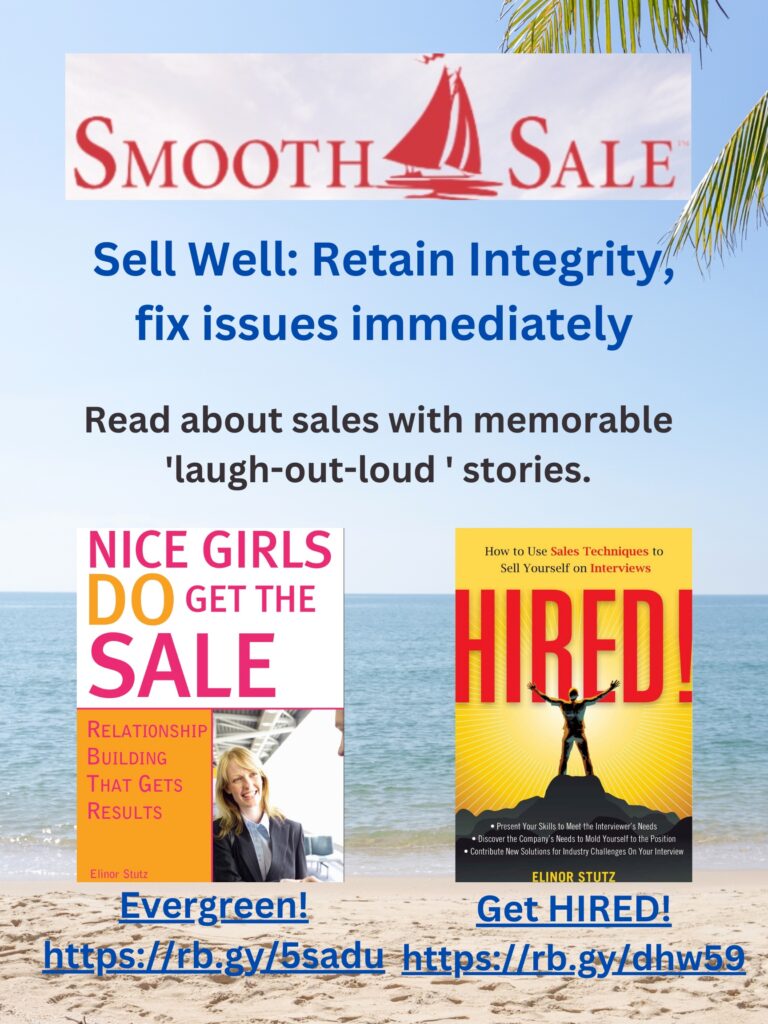 Be A Story-Teller
"Believe, Become, Empower"
Related Blog Stories:
Sales Tips: Bring Negotiations to Successful Conclusions
Keep a calm voice even when thrown back on your heels.
Maintain a calm demeanor throughout and smile whenever possible.
Attempt to explain the reasoning behind your thinking.
Habitually inquire about the previous experiences of others and their takeaway lessons.
Immediately attempt to connect the dots between your beliefs and theirs.
Ask, 'What if?' to find a better route for all parties.
Upon hearing a concern, ask questions until you realize a suitable conclusion.
Take note of the positive possibilities that can coincide with your thinking to reach an agreement.
Create a list of topics you agree on and consider hiring professionals to assist.
Celebrate Success!
Today's insights are provided to help you achieve the Smooth Sale!
RESOURCES FOR PERSONAL AND BUSINESS GROWTH:
Advisorpedia Publishes information to help advisors build their practice, and those interested in the markets choose investments and find inspiration.
BabyBoomer – A trusted media source that collects and curates all the news and resources, plus offers a wide variety of excellent courses for the Baby Boomer generation.
BizCatalyst360 Presents a life, culture, and biz new media digest as a hub of creative expression and personal growth.
CatCat: Build your future one skill at a time.
ContactOut is a web-based platform that enables users to search for contact information and uncover contact details, including email addresses, phone numbers, and other personal data.
Fedica Realize your followers' interests to create tailored content to encourage a returning and referring clientele.
Greg Jenkins Consulting LLC – Helping organizations realize the value of diversity to build inclusive, evolving, high-performing cultures.
Growth Hackers – Helping businesses globally grow with lead generation, growth marketing, conversion rate optimization, data analytics, user acquisition, retention, and sales.
Inclusion Allies Coalition: "Everyone is welcome here." Learn more to train teams and join the advocacy program.
Internet Advisor Find the internet service right for you among 2083 internet providers across 36,380 cities; plus, Cellphonedeal compiles excellent deals on phones, plans, and prepaid to furnish you with the best options in your area.
Kred Connect with top-rated influencers to learn from and grow your networks.
LinktoEXPERT "It is not who you know – who knows you and what your expertise can do for them, plus understand the value of hiring you."
Lotus Solution LLC Helps organizations create diversity and inclusion to ensure fairness and work through customized consulting, training, and keynote speeches.
Onalytica: Find relevant influencers for your brand.
SalesPop! Purveyors of Prosperity; How to Compete against Yourself to Excel in Your Career.
Simma Lieberman, "The Inclusionist," helps develop inclusive leaders from the inside out to champion diversity and build equitable, inclusive cultures at every level.
Yoroflow offers a comprehensive suite of digital workplace platforms to help you streamline your day-to-day operations, manage your finances, and grow your business.
Vunela Provides a unique opportunity to view Videos and read articles by World Leaders.
WebTalk is the one-stop platform To build your marketplace and grow social connections.
Win Win Women is the world's only interactive network and an international community for women. Women WIN when they receive solutions + Experts WIN when they provide solutions = Win Win Women.