Photo by John Hain via Pixabay
Attract the Right Job Or Clientele:
How Do You Handle Upsetting Responses?
The necessity of remaining on a steady footing and upholding our values and priorities includes responding diplomatically upon facing the need to handle upsetting responses. Otherwise, the moment anger begins to creep in, it's difficult to stop, and worse, poor word of mouth will likely spread. The same applies to career, business growth, and personal interactions.
My Story
Business disagreements arise between teammates, employees, employers, and even clientele. And sometimes, friends and acquaintances in our networks may surprise us with unwelcome and surprising remarks. Anger is easy, but it can adversely affect our outcomes and income. Worse, it can affect our health if we aren't aware and careful concerning our response when we allow the situation to eat away at us.
The better starting point when in conversation with a prospective client is to inquire in your own words, such as:
– What has your previous experience been concerning what you just said?
– Please explain more in-depth why it's important to you.
– How did you come to that conclusion?
Upon asking these types of questions, you will likely receive an in-depth response about the factors leading up to the initial response.
Personal Upsetting Responses
One conversation became quite heated after joining a small group for social time at a table game. It was supposed to be social but quickly took a downturn by dismissing female input, and worse, it became political. In today's environment, there is no winning argument in either of these instances. Common sense does not apply, nor does the possibility of finding agreement as emotions kick in on a high. For me, the dilemma became internal to realize that to find enjoyment on the weekend; I would need to find a new group which is now in process.
Business Upsetting Responses
We already have a supplier.
New to sales and without training permitted, I was on my own to determine the better response for each situation. In this case, I naturally asked, 'I'm sure your current supplier does an excellent job. But one never really knows unless you compare it to another.'
My follow-up question was, 'Are you willing to take a chance on a small scale to compare and contrast?'
Result: Typically, the response was one of surprise, and given that I was politely asking for their input, my prospective clients always allowed me to prove myself. The test worked out quite well, and repeat business became mine.
2. Management asks me, Are You Crazy; What's Wrong with You?
The questions were stated in front of the entire sales team. Embarrassed certainly, but I kept my composure to politely ask in return, 'What do you have to lose by not trying?'
The ball was back in the Manager's court, and he had nowhere to go but to agree with me. I returned to the client to let him know we were willing to proceed and determine if the idea would work in their favor. My new client was happy to experiment, and the results were better than the company expected.
I took the extra step of including teamwork with an engineer whose expertise was needed by giving him a portion of my commission. From that point forward, the tech team went out of their way to provide all support they could.
The better choice of words for 'Crazy' is 'Innovative,' and innovation wins out most often!
Your Story: How Do You Handle Upsetting Responses?
Take a few minutes to consider a memorable time that anger got the best of you and why that might be. If you could offer a different response, would you? Now review recent troubling conversations and commonalities in your reactions to them. The question becomes, is it time to adjust and encourage better outcomes?
On another level, it is time to rec consider those with whom you have been attempting to conduct business for time efficiency and securing better results. It is best not to beat yourself up over not fitting in or being understood but instead seek out those who may be a better fit. Finding your niche where you are welcome and appreciated is essential to minimize self-doubt and increase your success.
In Conclusion: How Do You Handle Upsetting Responses?
Our actions require regular review as the ways for conducting business change, and people do as well. We need to verify that we are on the right track for remaining true to our principles and ideals and that those with whom we attempt to associate and conduct business align accordingly.
For More Insights: Visit Elinor's Amazon Author Page
'Communicate to Attract Interest'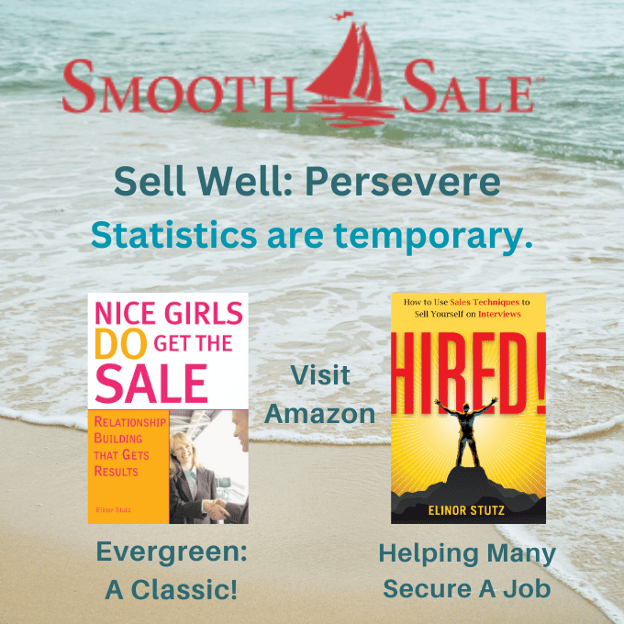 Authentic Relationships Are Essential
Be A Story-Teller
"Believe, Become, Empower"
Related Blog Stories:
Sales Tips: How Do You Handle Upsetting Responses?
Handle upsetting responses to ensure we are on a better track.
Consider whether you encounter an individual who continues to upset you each time you meet; it may be time to cut the cord.
Surround yourself with those who positively challenge you to advance the learning curve.
Always strive to learn from everyone you encounter, albeit what to avoid or to embrace.
Learn from every experience with the willingness to continue improving your efforts.
Confer with those you trust and admire to gain their insights for moving forward.
Ask those you trust how they handle specific situations without mentioning names.
Upon hearing an unusual question from a client, ask that they provide the reasons for their ask to give a targeted response.
After completing suggestions during a tense moment, ask the other party if they are happy with your response or have more questions to reach a satisfactory conclusion.
Celebrate Success!
Today's insights are provided to help you achieve the Smooth Sale!
RESOURCES FOR PERSONAL AND BUSINESS GROWTH:
Advisorpedia Publishes information to help advisors build their practice, and those interested in the markets choose investments and find inspiration.
BabyBoomer – A trusted media source that collects and curates all the news, resources, and shows of interest for the Baby Boomer generation.
BizCatalyst360 Presents a life, culture, and biz new media digest as a hub of creative expression and personal growth.
CatCat Build your future one skill at a time.
ContactOut is a web-based platform that enables users to search for contact information and uncover contact details, including email addresses, phone numbers, and other personal data.
Greg Jenkins Consulting LLC – Helping organizations realize the value of diversity to build inclusive, evolving, high-performing cultures.
Growth Hackers – Helping businesses globally grow with lead generation, growth marketing, conversion rate optimization, data analytics, user acquisition, retention, and sales.
Inclusion Allies Coalition "Everyone is welcome here." Learn more to train teams and join the advocacy program.
Internet Advisor Find the internet service right for you among 2083 internet providers across 36,380 cities; plus, Cellphonedeal compiles excellent deals on phones, plans, and prepaid to furnish you with the best options in your area.
Kred Connect with top-rated influencers to learn from and grow your networks.
LinktoEXPERT "It is not who you know – who knows you and what your expertise can do for them, plus understand the value of hiring you."
Lotus Solution LLC Helps organizations create diversity and inclusion to ensure fairness and work through customized consulting, training, and keynote speeches.
Onalytica Find relevant influencers for your brand.
SalesPop! Purveyors of Prosperity; how to Compete against Yourself to Excel in your career.
Simma Lieberman, "The Inclusionist," helps develop inclusive leaders from the inside out to champion diversity and build equitable, inclusive cultures at every level.
Vunela Provides a unique opportunity to view Videos and read articles by World Leaders.
WebTalk is the one-stop platform To build your marketplace and grow social connections.
Win Win Women is the world's only interactive network and an international community for women. Women WIN when they receive solutions + Experts WIN when they provide solutions = Win Win Women.