Attract The Right Job Or Clientele:
Note: Our collaborative blog provides valuable insights on, 'How to Prepare For A New Leadership Role.'
Supporting the premise and excellent insights within the article, you will also find links to other outstanding articles that complement the insights below.
Being promoted to a leadership role is an exciting achievement but can be intimidating whether you have prior experience or have never managed a team in your professional career. Many factors need consideration. Finding ways to prepare before your first day in the leadership seat helps make the transition easier and better aligns you with your prospective responsibilities. From seeking input from mentors, outlining your soft skills, to gaining feedback from your team, we have a few tips to get you ready for your new leadership role!
__________________________________________
How To Prepare For A New Leadership Role
Reflect on Your Current Skills
Your current skill sets, composed of natural abilities, interests, and acquired knowledge, are the perfect jumping-off point for leadership training. Begin by listing your educational background, past professional roles, and volunteer opportunities. Under these items, list the soft skills you improved upon and the hard skills you gained throughout each experience. Then compare them to a list of common leadership skills you feel apply to your prospective position.
It will be your reference for designing a personal leadership development plan. A Deloitte study of workforce trends found that 63% of millennials feel that leadership development is lacking in the modern workplace, so take the time to build your own! The format of your plan is entirely up to you, but it should include sections that address the following:
Your core leadership values

Skills, knowledge, and experience gaps and actionable steps for improvement

A timeline that maps out actionable steps, their duration, and completion date

A communication plan to build a supportive network
Build a Network
Building a solid network as a leader opens doors to new learning opportunities and expertise you might not currently possess. Meet one-on-one with mentors to gain helpful insights into enacting your strengths and ways to improve upon areas you feel less confident tackling. For example, if you struggle with communication, workshop team-building strategies that have shown positive results for other leaders in the organization. With their first-hand experience in your industry, they can act as a steady resource as you continue into your new position.
Create a diverse network by stepping outside of your company's executive team as well. Build connections through LinkedIn, contact a friend who may have managerial experience, or talk with peers from various levels of the organization. Establishing a diverse network will give you insight into different perspectives and promote well-rounded and effective leadership decisions.
Find Opportunities for Learning
There's a common misconception that leaders are born, not made, but that couldn't be further from the truth. Entrepreneur Robert F. Smith said, "Greatness is born out of the grind, so embrace the grind. A thoughtful and intentional approach to the grind will help you become an expert in your craft." Whether you're still preparing to become a leader or are already in the role, there is always room to learn further and grow your expertise. Participating in leadership training programs is a great place to start and targets specific pain points you may be facing as a manager. Seek programs that challenge your skill sets and invest in online learning courses to take your learning one step further. Hitting the books is a great way to learn the fundamentals of leadership and give insight into the kind of leader you want to be.
Apply your learning to in-person opportunities as well. Teach others about the skills you find most viable as a leader. Educator Mike Schmoker says, "Collaboration allows teachers to capture each other's fund of collective intelligence." Teaching and mentoring are practical tools that force you to expand your learning and listen to others about their experiences. It helps build resourceful connections and supports knowledge sharing to further refine and shape your abilities as a team leader.
Seek Input from Your Team
Your team is your biggest asset, and when it comes time to learn on the job, they will also be your most vital support system. To receive honest feedback, you first need to grow an internal team culture that supports it. Establish an "open door" policy that promotes a higher level of transparency and integrity and allows you to build stronger professional relationships with each team member.
Upon working towards a culture that harbors honest feedback, determine how to go about gaining said feedback. Online surveys are a great option that allows employees to give input on their own time and document how they feel about your leadership. You can also tailor each survey to gain specific insights into different skill sets you may target or use a number-based scale that rates your overall performance. All of these metrics help determine where you are excelling and falling short. Take time to also communicate with team members in person. Check in weekly with each individual and promote open discussion in team meetings to keep their feedback top of mind and keep you informed of where you need to improve or what's working well!
Being a leader is no small task, and if you are new to the position, it can feel like you are in front of the wolves! But preparation and dedication to sharpening your skills can make all the difference. We hope these tips will help make it easier as you find your stride as you take on a new role as a leader and become an effective leader!
For More Insights: Visit Elinor's Amazon Author Page
"Communicate to Attract Interest"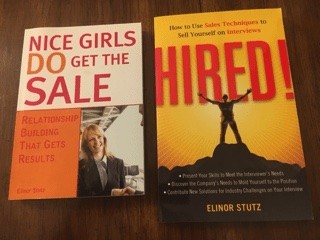 Be A Story-Teller
As the CEO of Smooth Sale, after her near-death experience, Stutz adapted the motto,
"Believe, Become, Empower."
"Nice Girls DO Get the Sale is an International Best-Selling and Evergreen Book – among the classics;
HIRED! Helped many to secure the job they desired.

Related Blog Stories:

Sales Tips: A New Leadership Role
Gain upfront expectations for your new role.

Add your specific add-ons for expectations.

Prioritize a list of what you need to achieve in the first ninety days.

Gather your team together and ask for their expectations to potentially further add to the list.

Gain agreement among team members on initial goals to achieve.

Create a year-long plan for team achievements.

Review your goals to ensure they align with those of the team.

Every month review the goals set and where they are in process with your team.

Revise implementation of plans as technology and strategies change to be ready to take on a new leadership role.

Celebrate Success!

Today's insights are provided to help you achieve the Smooth Sale!
RESOURCES FOR PERSONAL AND BUSINESS GROWTH:
Advisorpedia Publishes information to help advisors build their practice, and those having an interest in the markets choose investments and find inspiration.
BizCatalyst360 Presents a life, culture, and biz new media digest serving as a hub of creative expression and personal growth
CatCat Build your future one skill at a time.
For Book Lovers Only For Book Lovers Only introduces you, the book lover, to new and exciting authors and works of fiction and non-fiction.
GetCiara Make remote your unfair advantage.
Greg Jenkins Consulting LLC – Helping organizations realize the value of diversity to build inclusive, evolving high-performing cultures.
Inclusion Allies Coalition "Everyone is welcome here." Learn more to train teams, and join the advocacy program.
Internet Advisor Find the internet service right for you among 2083 internet providers across 36,380 cities, plus Cellphonedeal compiles great deals on phones, plans, and prepaids to furnish you with the best options in your area.
Kred Connect with top-rated influencers to learn from and grow your networks.
LinktoEXPERT "It is not who you know – it is who knows you and what your expertise can do for them plus understands the value of hiring you."
Lotus Solution LLC Helps organizations create diversity and inclusion to ensure a fair and just workplace, through customized consulting, training, and keynote speeches.
SalesPop! Purveyors of Prosperity; how to compete against yourself to excel in your career.
Vengreso Provides easy-to-follow on-demand sales training for LinkedIn.
Vunela Provides a unique opportunity to view Videos and read articles by World Leaders.
WebTalk is the one-stop platform Build your marketplace and growing social connections.
Women's Information Network (WIN) An education-and-event-based Global Community of Women Helping Women Worldwide Live Their Best Lives through Celebration, Self-Improvement, and Service.