Photo by Geralt via Pixabay
Attract the Right Job Or Clientele:
Why Is It Smart To Hire Seniors?
Several articles indicate that seniors returning to work are on the rise. The thought initially brought a smile. And then sound reasoning from both the employer and hiree perspective continues coming to mind. Below you will read insights regarding the question, 'Why is it smart to hire seniors?'
My Story
The Starting Point
Long ago, there were many types of employment where people felt indebted to their job for the wrong reasons. They were deep in debt and felt the obligation to support their families. Tennessee Ernie Ford was inducted into the Country Music Hall of Fame most likely for his song depicting the predicament people were facing. Although young at the time, I never forgot the power of his lyrics to the song, '16 Tons':
'You load 16 tons; what do you get?
Another day older and deeper in debt
St. Peter, don't you call me 'cause I can't go
I owe my soul to the company store…'
The Opposite Perspective
Times do change, and the tables turn. The next phase was to have pressure put on older employees to retire. The argument for replacing the more senior staff with younger people was their lack of desire to continue learning to remain current. The other factors include:
Less energy and enthusiasm for work excellence.
Potentially the need for more sick time pay.
Higher salaries at stake
No one can argue that the above-bulleted reasons will negatively affect the company's bottom line.
Sales Will Teach Us to Negotiate The Best Outcome
Not everyone possesses an open mindset for the consideration of varying possibilities. The better approach is to spend the time pondering all variants of an idea and opposing viewpoints to realize a better path ahead. Last, the adept salespeople know how to negotiate the best outcome for all parties. The better salespeople know when to stay to negotiate or when to walk away should it appear the solution will not benefit everyone.
Mirroring the negotiation process, management and recruiters will do well to consider the multiple reasons 'why' it's smart to hire seniors. Numerous factors enter the case for making the argument. The adept salespeople will first examine the other party's reasoning for moving forward.
Why Will Seniors Want to Return to Work?
The Retiree Initial Perspective: It's no secret that many people believe that retirement is the highest reward for working most of their lives. Obligation to work on many levels disappears. In most cases, some income continues, and one's time is completely free to do anything that one may desire.
The Retiree Reality: 'Oh my gosh, what did I do – and what do I do now?' Many of the conversations indicate that life is very dull without a keen focus on work. While it sounds exciting to be among friends to talk, play table games, and possibly enjoy an adventure on occasion, the negatives weigh in heavily for some:
Boredom day-to-day
Boring conversations
Endless hours each day without purpose or passion
Monetary needs due to inflation and price increases for necessities
The realization of one's passion, purpose, and a new commitment to perseverance.
Active hobbies, contract work, or modest style entrepreneurship can help seniors with their dilemma of what to do next. The essential element for most is to keep the brain active and avoid dementia.
Reasons for 'Why Is It Smart to Hire Seniors?':
We often hear of the need to take time out to regroup and reconfirm why we are on our path and how to improve it. Most often, the seniors who vigorously seek out employment are the ones who take the time to realize their better direction. Moreover, these candidates are likely to do well for your company. Why?
Appreciation for employment is stronger than ever, leading to a strong work ethic.
Seniors have first-hand experience of the tried and true.
The previous experience can apply to mentoring younger staff members.
Positive energy can be contagious, leading to a healthier work environment and, ultimately, the bottom line.
Flexible Work Can Positively Change the Work Landscape
Not everyone is anxious to return to a full-time work schedule on the premises. However, many seniors seeking work will welcome having somewhere to go. Employment may at least partially fulfill what they desire. But there is much more to how hiring seniors can help positively change the work landscape.
Hiring seniors back into the workplace will add to the movement for diversity, equity, and inclusion. The process can teach younger employees how to embrace all input from everyone regardless of age or background history. Instead of seniors feeling the discrimination, they are more likely to feel a warmer welcome.
Last, bringing seniors to the team makes it easier to provide a fair and equal pay scale. It is a pipe dream that can become a reality! The best practice is to add the salary to the job posting for everyone to realize they are all equals finally!
Related Blog Stories:
For More Insights: Visit Elinor's Amazon Author Page
"Communicate to Attract Interest"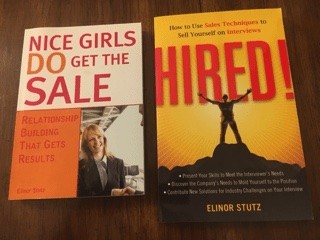 Be A Story-Teller
As the CEO of Smooth Sale, after her near-death experience, Stutz adapted the motto,
"Believe, Become, Empower.
"Nice Girls DO Get the Sale is an International Best-Selling and Evergreen Book – among the classics;
HIRED! Helped many to secure the job they desired.
Your Story: Why Is It Smart To Hire Seniors?
As business readjusts to hopefully overcoming the pandemic and enjoying gainful employment, it will be helpful to consider your current business status. There is truth to the sentiment that little creativity is at hand when everyone looks the same and shares similar beliefs. Worse, there is little likelihood that new ideas will create new sources of income.
Like being sales proficient, it's wise to consider everyone's perspective and welcome new thoughts. Finding people with the talent you need from diverse cultures, generations, and backgrounds will add to your reservoir of knowledge and creative thinking. Accordingly, the business will be more likely to flourish as it will address and attract a wider prospective clientele.
In conclusion, the sales motto is to work for a win-win, satisfying both the customer and the provider. But when you work for a win-win-win, you will earn a grateful staff devoted to helping grow the business and far more robust results! Let's work together to realize the answer to, 'Why is it smart to hire seniors?'
Sales Tips: Why Is It Smart To Hire Seniors?
Seniors can help younger employees gain what they need to know more quickly.
Mentorship within a team can provide more positive energy among members.
A positive thinking environment can produce a more engaging interaction with clientele.
An inclusive environment is likely to contribute to additional ideas for business growth.
Seniors who are happily back at work will spread good word of mouth about the company.
More senior people are likely to know of valuable connections for the business.
Hiring seniors is almost akin to community service serving everyone well.
Happy staff will be more likely to refer new candidates and can minimize the cost of recruitment.
Employees who welcome will almost eliminate the costly revolving door syndrome, thereby adding positively to the bottom line.
Celebrate Success!
Today's insights are provided to help you achieve the Smooth Sale!
RESOURCES FOR PERSONAL AND BUSINESS GROWTH:
Advisorpedia Publishes information to help advisors build their practice, and those having an interest in the markets choose investments and find inspiration.
BizCatalyst360 Presents a life, culture, and biz new media digest serving as a hub of creative expression and personal growth.
CatCat Build your future one skill at a time.
For Book Lovers Only For Book Lovers Only introduces you, the book lover, to new and exciting authors and works of fiction and non-fiction.
GetCiara Make remote your unfair advantage.
Greg Jenkins Consulting LLC – Helping organizations realize the value of diversity to build inclusive, evolving, high-performing cultures.
Growth Hackers – Helping businesses worldwide grow with lead generation, growth marketing, conversion rate optimization, data analytics, user acquisition, retention, and sales.
Inclusion Allies Coalition "Everyone is welcome here." Learn more to train teams, and join the advocacy program.
Internet Advisor Find the internet service right for you among 2083 internet providers across 36,380 cities, plus Cellphonedeal compiles great deals on phones, plans, and prepaids to furnish you with the best options in your area.
Kred Connect with top-rated influencers to learn from and grow your networks.
LinktoEXPERT "It is not who you know – it is who knows you and what your expertise can do for them plus understands the value of hiring you."
Lotus Solution LLC Helps organizations create diversity and inclusion to ensure a fair and a just workplace through customized consulting, training, and keynote speeches.
SalesPop! Purveyors of Prosperity; how to compete against yourself to excel in your career.
Simma Lieberman "The Inclusionist" helps develop inclusive leaders from the inside out to champion diversity and build equitable, inclusive cultures at every level.
Vengreso Provides easy-to-follow on-demand sales training for LinkedIn.
Vunela Provides a unique opportunity to view Videos and read articles by World Leaders.
WebTalk is the one-stop platform. Build your marketplace and grow social connections.
Women's Information Network (WIN) An education-and-event-based Global Community of Women Helping Women Worldwide Live Their Best Lives through Celebration, Self-Improvement, and Service.