Photo by Rosiette-Stock via Pixabay
Attract the Right Job Or Clientele:
We Cannot Predict Our Outcomes
It's essential to remember that we cannot predict our outcomes. Accordingly, when something unusual comes to mind, I try it to see what may happen. Sometimes, the effort appears a waste of time to others, but for me, I strive to reap the lessons from the episode.
The word 'episode' can be likened to any television series. The plot begins with innocence, and the characters learn to cope and advance past setbacks. Growing a business or seeking to advance a career is no different; the winning strategy is to seek to learn from every incident. The process enables us to grow personally and professionally.
My Story
The title of our blog is the theme of my career, as most people I knew always said to me, 'That's a ridiculous idea!' Despite the negativity surrounding me, I did what I believed intuitively to be suitable for me and eventually provided the strategies to be so.
Click the link to hear and read the transcript of 'Bouncing Back with Elinor: A Tale of Courage, Change, and Entrepreneurial Milestones podcast' hosted by Jesse Blount. It reveals some demeaning experiences I could eventually turn into fruitful events. Finding a better way around what will not work is always necessary to discover what will help us to succeed.
At the heart of the matter is with dire predictions in front of us; we have nothing to lose to see if our plan may work. Even better is there is relatively little to lose when we are at the beginning phase of our careers. Experimentation, trial and error, and trying again are the components for succeeding.
The bonus of remaining true to what we desire and authentic with our business growth approach is attracting similar-minded others. Accordingly, we can extend our reach and substantially increase business growth by communicating with our audience. The goal is to honestly verbalize what our prospective clientele desires from a service such as ours to uncover how we may best serve them well.
While sales trainers may teach us that it's necessary to speak to our prospective clientele's needs, wants, and desires, it is also vital to be honest and consistent in our words, actions, and deeds. Before ending a conversation, verifying you are on the same wavelength for proceeding is critical. Only then can we establish a loyal clientele who will freely promote the benefits of doing business with us.
Your Story: We Cannot Predict Our Outcomes
Too many people give up before they give every effort to something they believe might work. Why? They can't handle the criticisms surrounding them and begin to doubt themselves, eventually becoming fearful. But when one is to realize no one has a crystal ball that accurately makes predictions 100% of the time. \
Although it may sound strange, paying attention to intuition can give way to a better route by involving deeper thinking. Pros and cons exist for every question and situation, and you must comb through all the weeds to find the growth that may potentially blossom into something special.
The better approach is to realize your ultimate vision for accomplishment and match your goals and experiments accordingly. Ensuring everything is in sync with the theme, including priorities and values, plus the dedication to research, trial and error, you will stand a far better chance of succeeding.
One word of caution is verifying that you can afford to experiment with a new idea and will not adversely affect your bottom line. I've met many entrepreneurs who quickly needed to end their endeavors because they believed the expenditures would likely ensure better outcomes. Budgeting is an essential component for increasing the likelihood of succeeding.
In Conclusion: We Cannot Predict Our Outcomes
If we cannot predict our future, then it is doubtful that anyone else has the power to do so. Should an idea come to mind that excites and motivates you to try, it is in your best interest to give the idea your all. Most people emphasize 'failure,' but the effort becomes worthwhile when we omit the word to look at a poor outcome as an opportunity for learning. Accordingly, we can take the next challenge plus experience to a higher level!
For More Insights, Visit Elinor's Amazon Author Page
Communicate to Attract Interest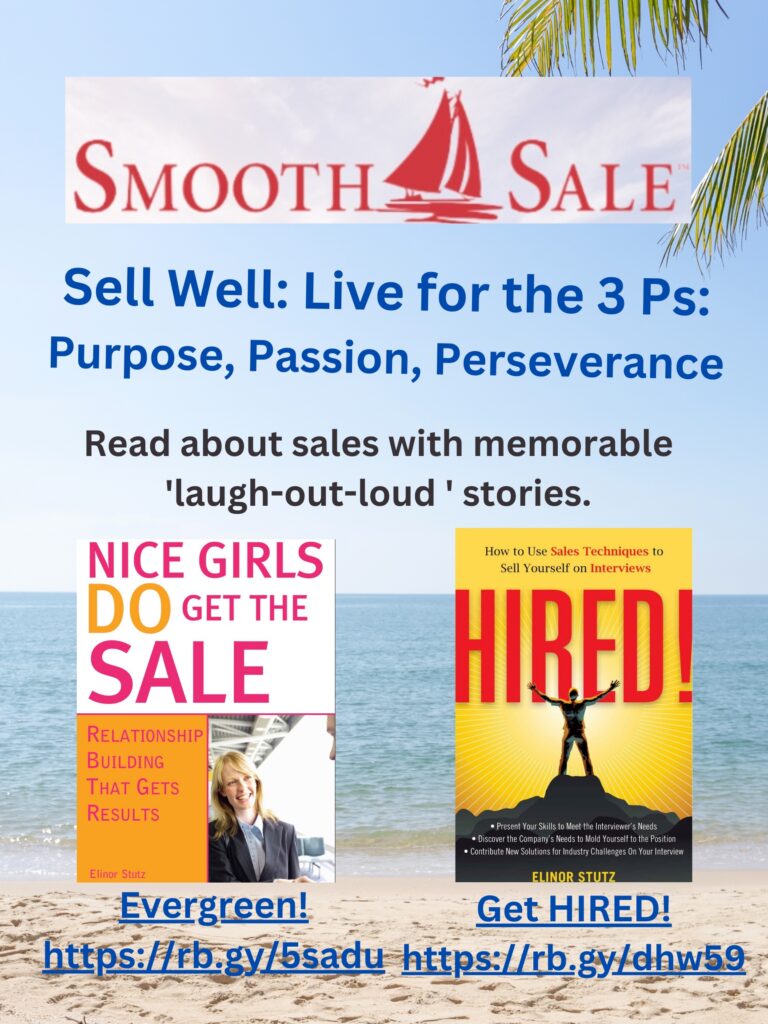 Be A Story-Teller
"Believe, Become, Empower"
Related Blog Stories:
Sales Tips: We Cannot Predict Our Outcomes
Examine a new idea from as many angles as possible to intuitively know whether it may work well.
Only share novel ideas with peers you trust, who won't automatically shove back the thought.
Take turns exchanging novel approaches to discuss and help improve the idea for it to be successful.
Consider partnering and collaborating with trusted peers to increase the momentum and potential outreach.
As much as possible, avoid doubting yourself, and go for the gold!
Scrutinize reactions upon the announcement and then the introduction.
Monitor how your idea brought to market is performing to make tweaks.
Add complementary services and products to encourage your audience to seek your offerings.
A positive mindset and determination can lead to positive outcomes and far more.
Celebrate Success!
Today's insights are provided to help you achieve the Smooth Sale!
RESOURCES FOR PERSONAL AND BUSINESS GROWTH:
Advisorpedia Publishes information to help advisors build their practice, and those interested in the markets choose investments and find inspiration.
BabyBoomer – A trusted media source that collects and curates all the news and resources, plus offers a wide variety of excellent courses for the Baby Boomer generation.
BizCatalyst360 Presents a life, culture, and biz new media digest as a hub of creative expression and personal growth.
CatCat: Build your future one skill at a time.
ContactOut is a web-based platform that enables users to search for contact information and uncover contact details, including email addresses, phone numbers, and other personal data.
Fedica Enables you to realize your followers' interests to create tailored content to encourage a returning and referring clientele.
Greg Jenkins Consulting LLC – Helping organizations realize the value of diversity to build inclusive, evolving, high-performing cultures.
Growth Hackers – Helping businesses globally grow with lead generation, growth marketing, conversion rate optimization, data analytics, user acquisition, retention, and sales.
Inclusion Allies Coalition: "Everyone is welcome here." Learn more to train teams and join the advocacy program.
Internet Advisor Find the internet service right for you among 2083 internet providers across 36,380 cities; plus, Cellphonedeal compiles excellent deals on phones, plans, and prepaid to furnish you with the best options in your area.
Kred Connect with top-rated influencers to learn from and grow your networks.
LinktoEXPERT "It is not who you know – who knows you and what your expertise can do for them, plus understand the value of hiring you."
Lotus Solution LLC Helps organizations create diversity and inclusion to ensure fairness and work through customized consulting, training, and keynote speeches.
Onalytica: Find relevant influencers for your brand.
SalesPop! Purveyors of Prosperity; How to Compete against Yourself to Excel in Your Career.
Simma Lieberman, "The Inclusionist," helps develop inclusive leaders from the inside out to champion diversity and build equitable, inclusive cultures at every level.
Yoroflow offers a comprehensive suite of digital workplace platforms to help you streamline your day-to-day operations, manage your finances, and grow your business.
Vunela Provides a unique opportunity to view Videos and read articles by World Leaders.
WebTalk is the one-stop platform To build your marketplace and grow social connections.
Win Win Women is the world's only interactive network and an international community for women. Women WIN when they receive solutions + Experts WIN when they provide solutions = Win Win Women.