Guest Post by Andrew Lisa:
Videoconferencing: The Next Big Thing for Interviews, Sales Calls, Etc.
People who started their careers before technology hit its stride may remember videoconferencing as clunky, unreliable and complicated. Once seen as a necessity by people separated due to impassible geographical distances, videoconferencing is now often preferable to face-to-face meetings. Whether it's interviews, meetings about sales techniques, business speaker seminars or client meetings, videoconferencing is a technology that is entering its golden era.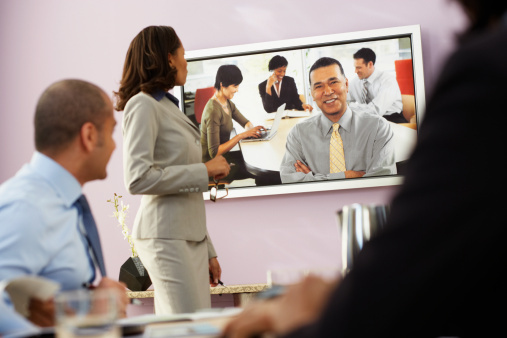 Videoconferencing is no longer a complicated, unreliable technology.
The New Hiring Norm
As discussed in "Why Videoconference Job Interviews are Good for Everyone," more than 60 percent of hiring managers use videoconferencing to hire new employees. The technology can be used to draw new recruits – especially when it is used to interview all candidates, at least in the first round of interviews. More people can be interviewed in a shorter period of time, and candidates who might not have showed up due to distance will now give your company a shot.
Improved Technology
Voice over Internet protocol, or VoIP, was once an unreliable system plagued with delays, bad connections and dropped signals. Improved Internet reliability and speed – as well as increased bandwidth – have made the once-shaky foundation of videoconferencing systems reliable and stable. VoIP brings clarity, stability and a range of new features.
Cost Effectiveness
Whether it's a seminar for sales techniques or to host a guest business speaker, videoconferencing saves money on travel and expenses, while affording the people involved the luxury of not having to travel at all. VoIP technology not only makes the system more reliable, but removes the prohibitive cost that was once associated with integrated videoconferencing.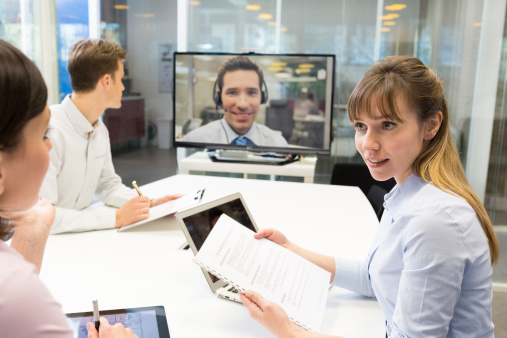 Videoconferencing is the new normal for job interviews.
The days of stuttering, poorly dubbed audio and flickery, in-and-out video is a thing of the past. Modern videoconferencing is an effective method of hosting remote meetings, job interviews, seminars, sales meetings and client discussions. A far cry from its primitive roots, videoconferencing is now another technological tool in the arsenal of savvy, modern enterprises.
NOTE: Should a hiring manager or prospective client ask you to drive a long distance, demonstrate your leadership and negotiation skills by asking for a video conference to begin the process.
Andrew Lisa is a freelance business writer. He covers business telecommunications and office technology.